One Year Later | A look at COVID-19 in our Community

REFLECT                            REFOCUS                             COMMIT
Thursday, March 11 will mark the one-year anniversary of the first confirmed case of COVID-19 for Hattiesburg, Forrest County and for the State of Mississippi. As a date of remembrance, the City of Hattiesburg will host a series of events and displays to remember the Pine Belt lives lost due to COVID-19 and to honor those on the frontlines who continue to fight this disease through testing, treatment and vaccination.
Sunset Vigil at
Town Square Park
March 11, 2021 at 5:30 p.m.
On Thursday, March 11, Mayor Toby Barker will be joined by local pastors, elected officials for Forrest and Lamar Counties and health care leadership for a memorial vigil at sunset.

In the park, two hundred and twenty plus empty chairs with luminaries will be lined up on the lawn in front of the stage. Each one will stand for a life in Forrest and Lamar Counties lost to COVID-19.
This event will be broadcast virtually on Facebook and will speak to the tragedy of loss, processing grief and the hope of better days ahead.
Hand Sanitizer
Distribution
March 12, 2021, 9 a.m. – 11 a.m.
Thanks to the generosity of a local business, more than 500 gallons of hand sanitizer were donated for use by churches, small businesses and restaurants to help meet CDC guidelines and recommendations. 
If a local organization/church/business is in need of sanitizer, it can be picked up at Jackie Dole Sherrill Community Center from 9 a.m. until 11 a.m. on Friday, March 12.
Paint
Hattiesburg Red
March 12, 2021
In the spirit of unity, determination, hope and faith throughout the COVID-19 pandemic, the City of Hattiesburg is asking all residents to display the color red on their homes with ribbons or by wearing the color red to honor all of our frontline workers in healthcare and beyond.
A Year
in Pictures
March 11 – March 31, 2021
Thanks to the generosity of CR Properties, a display of photos will hang in the windows of Forrest Tower on Forrest Street. The display will include photos from those initial days, testing & vaccine announcements, as well as key events and moments of progress our city has seen amid a pandemic. This display will be up on March 11 and stay up through the end of the month.
A virtual gallery for an expanded look beyond the windows can be seen by clicking the link below.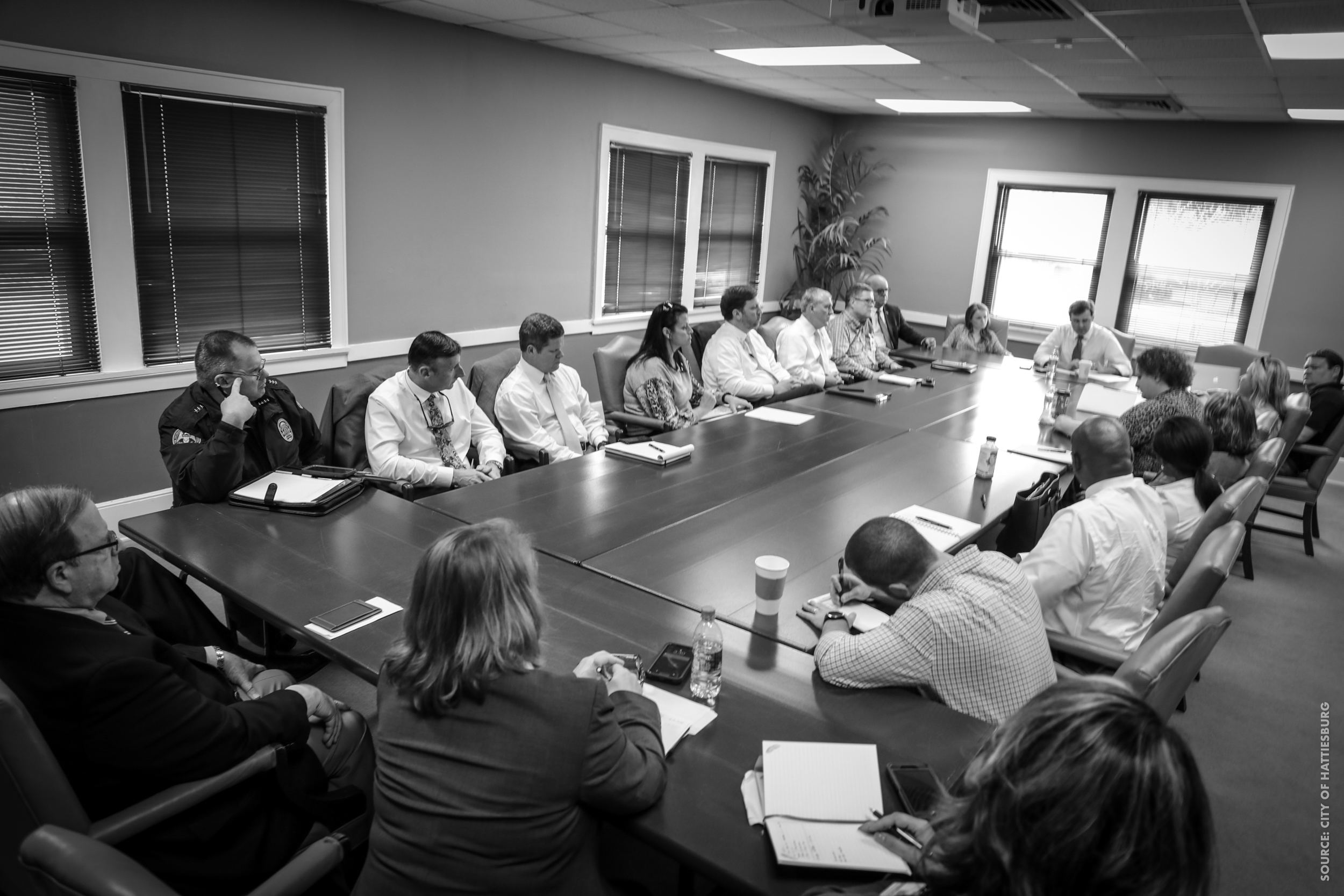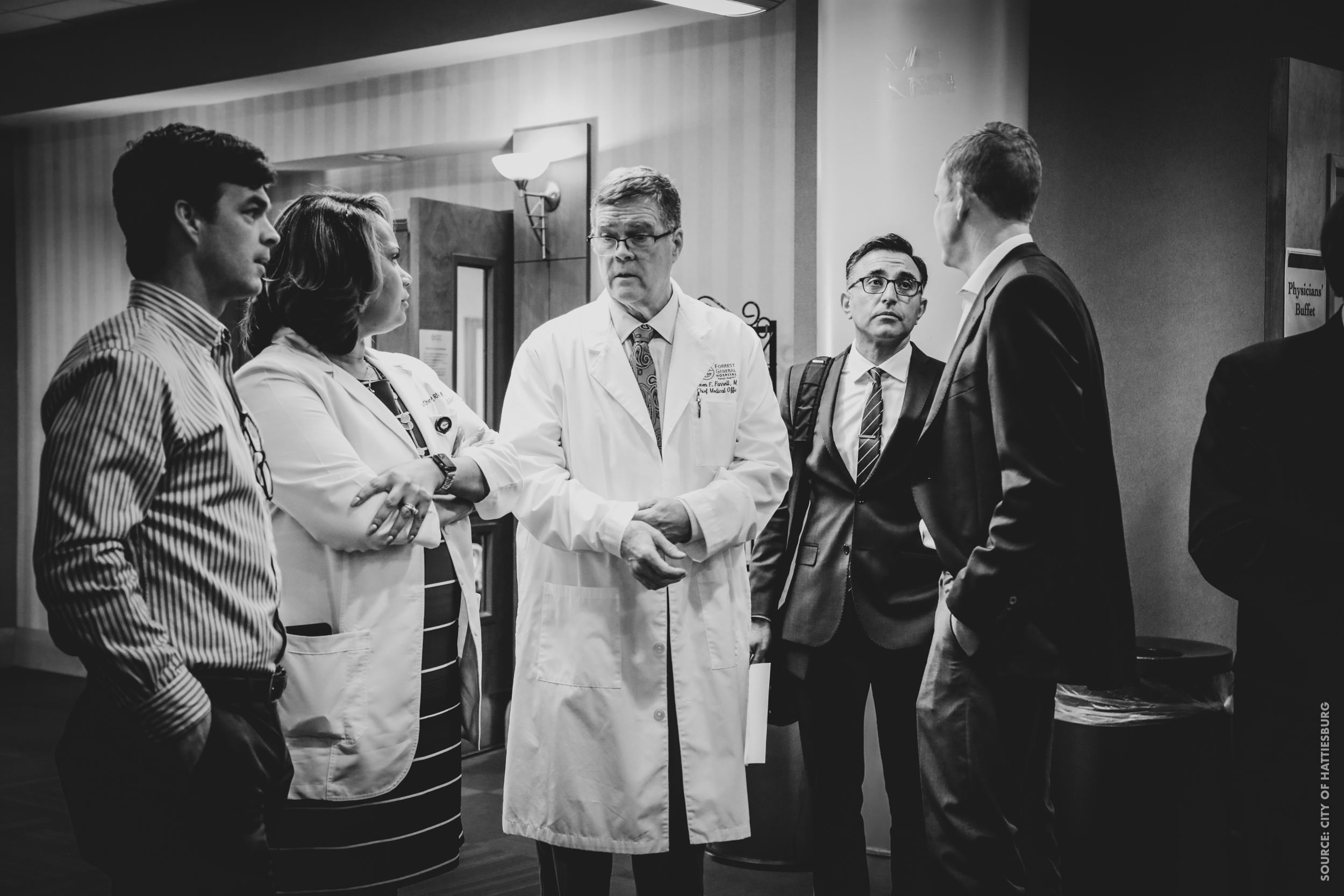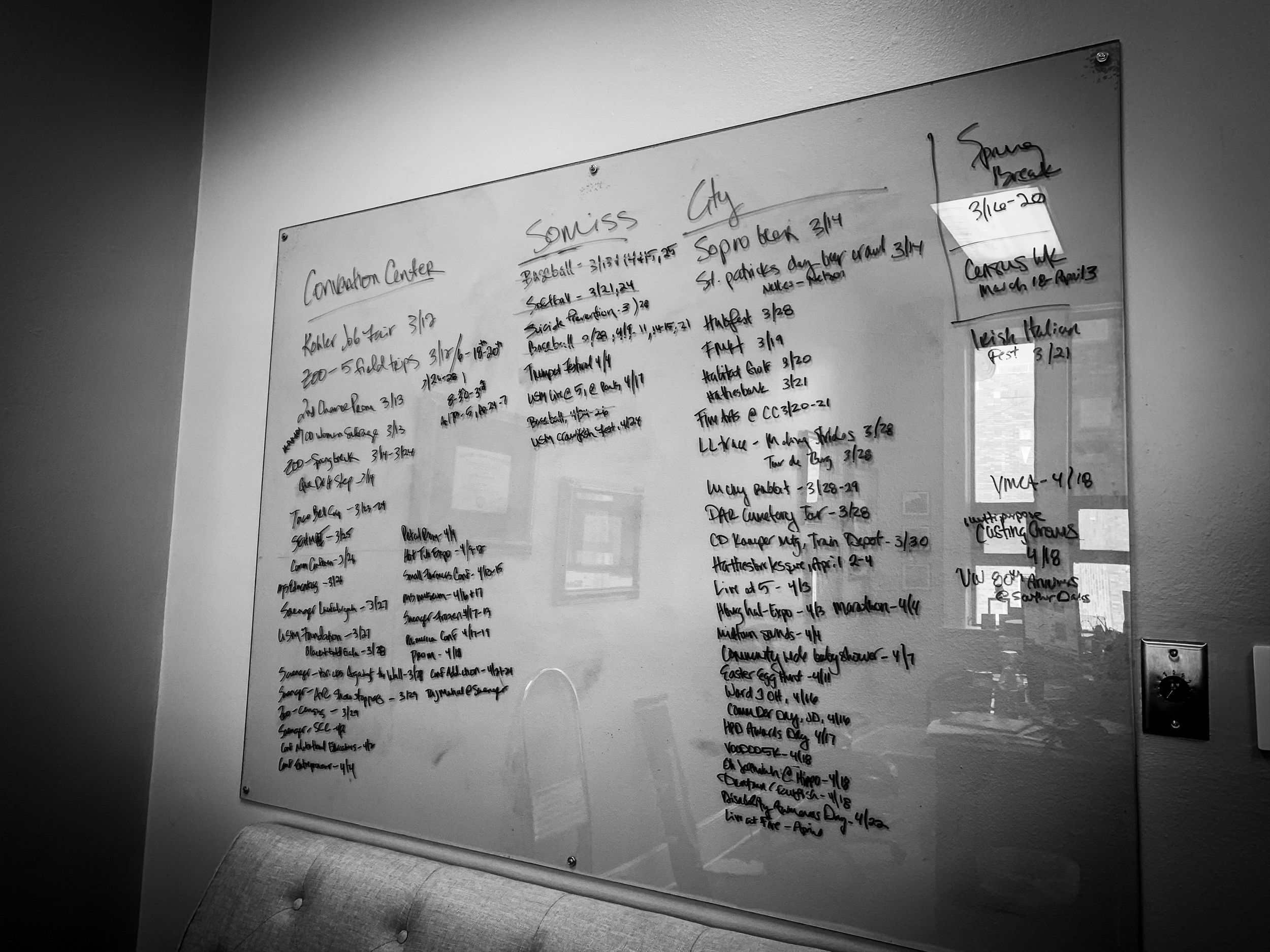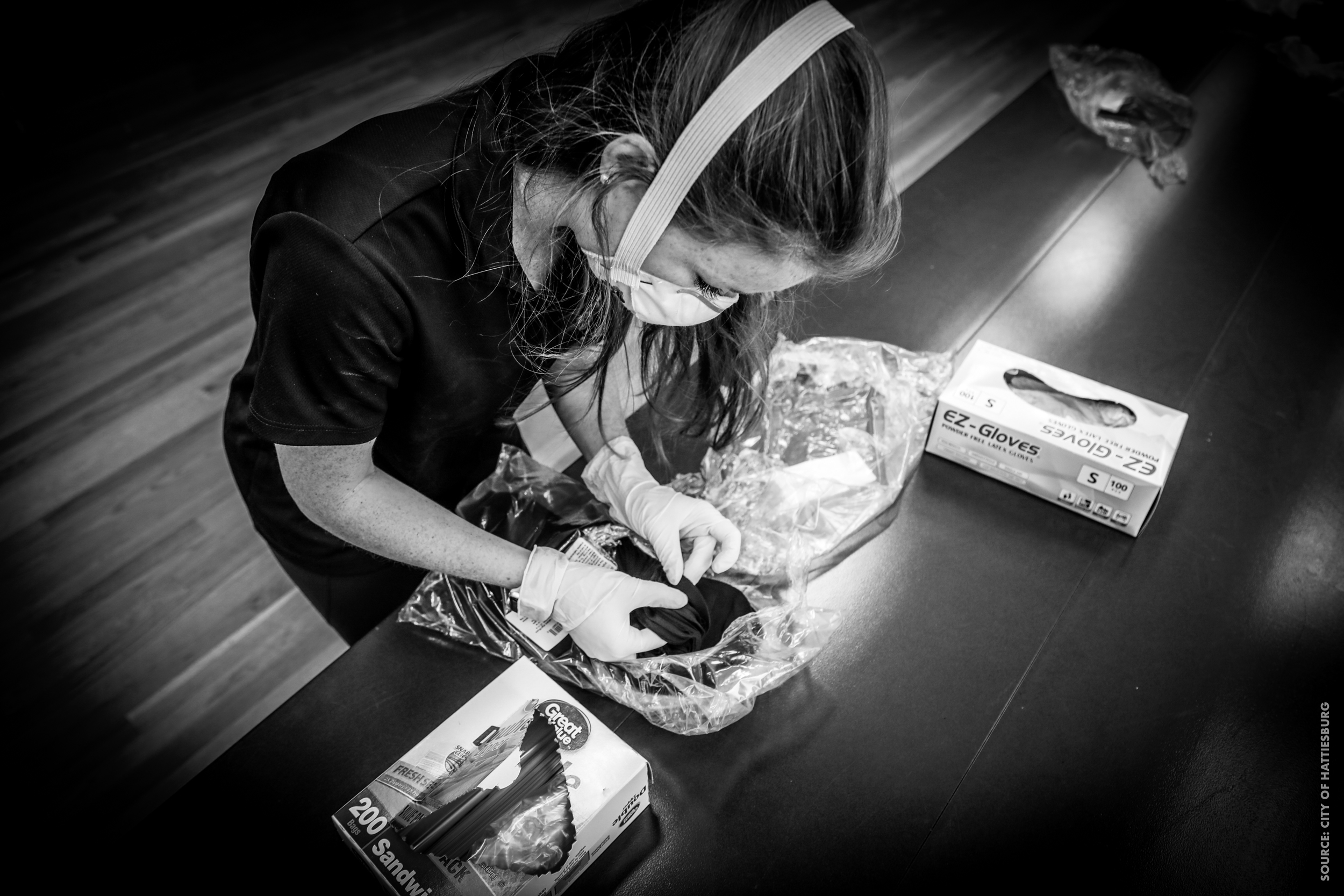 Community + Collaboration
On March 11, 2020, the City of Hattiesburg and Forrest County became home to the first case of coronavirus for the state of Mississippi. 
Over the last year, elected officials with Forrest County, Lamar County and the City of Hattiesburg have worked with the local health care community (Forrest General, Merit Health Wesley, Hattiesburg Clinic, Southeast MS Rural Health Initiative and the health clinics at both The University of Southern Mississippi and William Carey University), emergency management officials, the MS State Department of Health, education leadership at both primary, secondary, junior colleges and institutions of higher learning and tourism representatives (restaurant, retail and hospitality) to respond to the threat of COVID-19 in the Pine Belt.
As one and two cases turned into many more – these partners worked tirelessly to provide public guidance for safe, collective practices. They also pivoted quickly in operations to provide basic services to the community, all while using these goals as a guideline: 
Protect our most vulnerable populations (those over 65 or with chronic health conditions). 

Prevent overrun of the health care system by slowing the spread.

Prioritize public health while giving the private sector space to operate creatively.
Day after day, officials leaned on data from local health care facilities to help guide decisions. The five factors that have played a vital role in this include:
The widespread availability of testing.

Wearing masks.

Watching our own data.

Listening to all voices.

Access to and equity in vaccinations.
Not a single day has been easy. Collectively, all have lost something or someone due to this unseen enemy. There is, however, a light at the end of the tunnel with the rollout of now three FDA vaccines approved for Emergency Use Authorization.
As of March 8, 2021, case counts and hospitalization/ICU numbers are trending down due largely to vaccination access and the collective effort of the community to mask up and avoid large crowds, 
As we enter what we hope to better days – with broader access to vaccines and proven therapeutics – we encourage all residents to take time this week to reflect on what we've been through, refocus and commit to efforts that can end this pandemic.