HATTIESBURG 

FIRE DEPARTMENT
CONTACT 

INFORMATION
Administration Office
622 Corinne Street
Hattiesburg, MS 39401
HFD Directory
FIRE STATION #1
810 Main Street
601-545-4691
FIRE STATION #2
1111 Arledge Street
601-545-4692
FIRE STATION #3
53 Academy Drive, Ste 1
601-545-4693
FIRE STATION #4
5033 Hwy 42
601-545-4694
FIRE STATION #5
922 E Hardy Street
601-545-4695
FIRE STATION #6
3804 Montague Boulevard
601-545-4696
FIRE STATION #7
46 Parkway Boulevard
601-545-4697
FIRE STATION #8
104 Lamar Boulevard
601-545-5659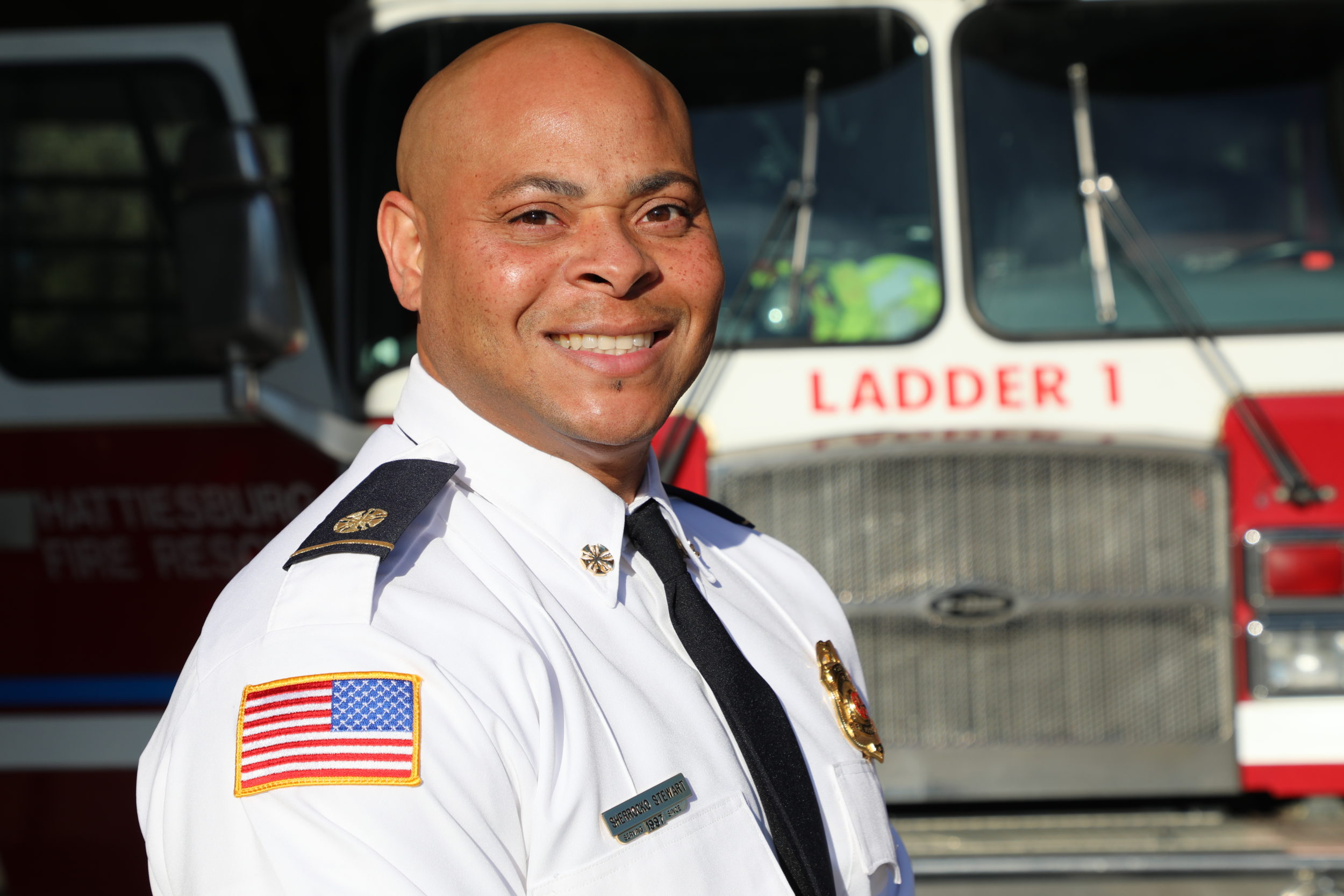 I would like to thank the Mayor, the Hattiesburg City Council and all of the friends and family members that continue to support the Hattiesburg Fire Department.
Since my arrival in June 2018, we have formulated a distinct vision forthe Hattiesburg Fire Department that WILL be accomplished as we move forward.  This past August we were evaluated by the Mississippi State Rating Bureau and we maintained our class 4 fire rating.  This rating will allow our citizens and business owners to continue to enjoy the lower insurance rates and other benefits associated with this rating for the next four years.  While this was a great start to our administrative mission, we are not yet satisfied.  We are determined to increase the rating to a class three, which will allow more savings for business owners and citizens.  We are working diligently to accomplish this goal before our next evaluation in 2021.
Future endeavors of our administration also include increasing total manpower, adding more registered EMT's to the department and the construction of Fire Station Number 9.  By taking advantage of the educational agreements between The University of Southern Mississippi and Pearl River Community college, we are working to become the best trained and educated department in the state of Mississippi.
We are just beginning to touch the surface of the potential of this Fire Department, and I'm excited that I was chosen to lead this department moving forward.
Thanks,
Chief Sherrocko Stewart
---
ABOUT 

HATTIESBURG FIRE DEPARTMENT
The Hattiesburg Fire Department officially became a paid department on April 15, 1904. Led by A.F. Potter, nine men served the City 24 hours a day, seven days a week with little time off. That same day they also put into service a horse-drawn engine with two used horses named Duke and Dexter, purchased from local stock.
From the first station located at City Hall with the engine, a combination hose and ladder wagon and a chief's buggy, the department expanded with two more stations in 1908 at Arledge Street and W. 5th Street. Hattiesburg purchased its first motorized engine in 1915 (followed by two more in 1917 and 1921, respectively) and became the first department in the state to purchase a motorized ladder truck in 1939. At that time the department had grown by another station on Hardy and Dixie Avenue with twenty-five firemen now serving at four stations on two twenty-four hour shifts.
Today, a little more than a century since its inception, the Hattiesburg Fire Department has grown to eight stations, 118 firefighters, six engines, two aerials and two rescue pumpers. Besides fire suppression, the department also serves the greater Pine Belt region and the state with experienced hazardous materials, rescue and all-hazards teams. But while much has changed since the department's "horse and buggy" days, one thing hasn't – the same spirit of service and courage that inspired those first firefighters in 1904 continues on today with "Hattiesburg's Bravest."
HFD 

SERVICES
The Hattiesburg Fire Department serves Hattiesburg's residents and visitors with more than 120 skilled personnel operating eight engines, two ladder trucks and a variety of specialized equipment found at the eight stations strategically located throughout the city. 
What Do We Do?
Fire Suppression

Emergency Medical Services

Hazardous Materials Response

Technical Rescue

(High-angle Rope, Confined Space, Swiftwater/Flood, Vehicle Extrication, Structural Collapse & more)

Fire Safety Education
HFD 

ADMINISTRATION
Assistant Chief / Fire Marshal
Battalion Chief & Director of Training