Hattiesburg, Mississippi – On Wednesday, September 11, the City of Hattiesburg will host its annual 9/11 Memorial Ceremony at 8:40 a.m. It will take place at Hattiesburg Fire Station #1 and will include the national anthem performed by violinist John Eze Uzodinma II and a keynote address by Major General (retired) Jeff Hammond.
"Nearly 3,000 lives were taken from us on September 11. As a nation, we grieved; and in the days that followed, communities all across the country came together in prayer and grace for what was to come," said Mayor Toby Barker. "Each year, we gather on the lawn of Fire Station #1 to not only remember what happened that day, but to honor all lives that were lost, those who survived and the commitment and risk each of our first responders take to protect our community."

Barker added, "This year, we will hear a remarkable rendition of the national anthem by John Eze Uzodinma II and the personal reflections of Major General (retired) Jeff Hammond. It will be a special morning, and we invite our community to join us as we strive to preserve the legacy of all we lost that day and to live up to the examples of sacrifice and service."
The ceremony will also include remarks by Fire Chief Sherrocko Stewart, Police Chief Anthony Parker and Barker. The service will close with ceremonial elements (21-Gun Salute, "Taps" and the laying of a wreath) to honor all lives lost in the attacks at the World Trade Center site, the Pentagon and aboard Flight 93 in 2001.
##
SPECIAL GUEST BIOS
Music by John Eze Uzodinma II: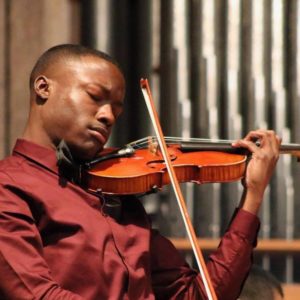 24 year old violinist, John Eze Uzodinma II, was born in Madison, Mississippi, and is the oldest son of Eze and Cynthia Uzodinma. John began studying the violin at the age of 8, and he truly has a burning passion for music and this passion, which has been expressed upon multiple instruments, has driven him to attend numerous summer music festivals and to compete in multiple competitions in locations ranging from British Columbia, Canada, to Sydney, Australia. Upon graduation from high school, he was named the National Gold Medal Winner of the 2013 NAACP ACT-SO Competition and 2013 Omega Psi Phi Fraternity, Inc. 7th District Talent Hunt. John has also had the distinguished honor of performing in the presence of keynote speaker and former President Bill Clinton at the 2013 Medgar Evers 50th Anniversary Celebration at the National Arlington Cemetery in Washington, D.C.
John graduated from the University of Southern Mississippi's School of Music in May of 2017, where he obtained his Bachelor of Music in Violin Performance with Highest Honors. While at the University of Southern Mississippi, John was also the 2016 award recipient of The Presser Foundation's Undergraduate Scholar Award, the Kennard -Washington Distinguished Man of the Year award, and the 2016 Afro-American Student Organization's Outstanding Leadership Award. He furthered his musical studies by pursuing a Master of Music at Louisiana State University's School of Music, where he successfully led the symphony orchestra as concertmaster during its 2017 to 2019 concert season.  Earlier this year, John achieved worldwide recognition for his stirring rendition of "The Star-Spangled Banner," which was viewed more than 6.5 million times. John's passion and persistence to perform as a violinist has allowed him to be regarded as a musical artist who brings a unique sense of artistry, emotions, and personal interpretations to his audiences. [more]
Keynote by Major General (retired) Jeff Hammond: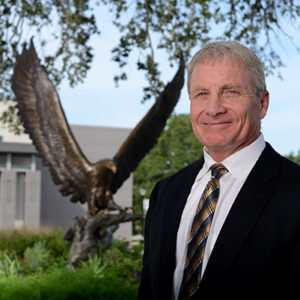 Major General (Retired) Jeff Hammond is a father first, once a soldier and a University of Southern Mississippi (USM) Golden Eagle. He received his commission as an Army Officer upon graduation from USM in 1978 where he served as team captain for the football team.
Jeff earned a BS and M.Ed from USM along with a Master's Degree in National Security and Strategic Studies via the US Navy War College (while serving on Active Duty).  He places his greatest trust in Spiritual Faith, Family and caring for Our Service Members, Military Veterans, and their Families.
Jeff has been married to Diane (a USM Criminal Justice graduate) for 33-years and they have two children, Michael and Meagan (both graduates of Texas A&M University).