Hattiesburg, Mississippi – On January 19, 2023, Mayor Toby Barker released a video proclamation declaring the 100th Anniversary of City Hall, located at 200 Forrest Street in Downtown Hattiesburg.
To commemorate the occasion, content featuring the history of the building will be shared across the City's social media channels throughout the following week. All will culminate with a special reception on Thursday, January 26 from 5 p.m. until 6 p.m. at City Hall. Former elected officials and the general public are encouraged to attend.
Barker states, "We commemorate this day, January 19th, 2023, as the 100th anniversary of Hattiesburg City Hall, and we encourage all citizens and visitors to honor the contributions of past local leaders like Mayor Batson, Mayor W.S.F. Tatum and others who gave the best of their talents and energies to our community, to remember that City Hall was the seat of local government that belongs to all people of Hattiesburg and to share in the excitement of our beloved city's future."
He adds, "We know there are many more chapters in our story to write for generations and centuries to come. We hope our neighbors, friends and those who have a tie to this incredible building choose to join us on Thursday, January 26 as we take a look at the past, revisit memories of those who have come before us and use it all to be excited about the future."
To learn more about the history of City Hall located at 200 Forrest Street, visit 100 Years of City Hall.
##
PROCLAMATION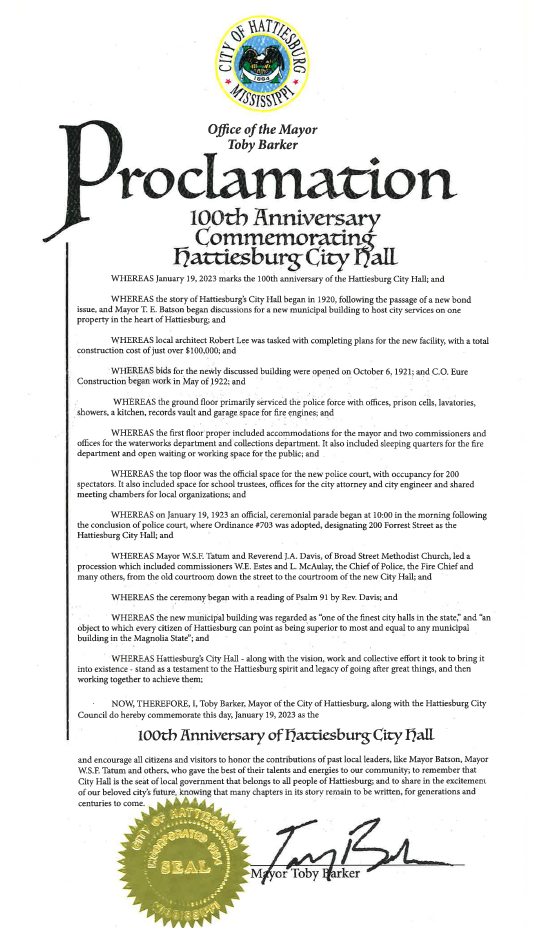 VIDEO