Hattiesburg tends to be a hotspot for severe weather. When these events occur, it's our duty to provide information that extends beyond the actual weather warning – like facility and road closures, delayed schedules for pick-up services, after-the-storm messaging and more
Through our continued effort of building better opportunities to relay important information to you, we are launching Hub Alerts. This is an instant notification delivery system, that can broadcast alerts to registered users through text message, voice calls and emails during a local emergency, important advisory or significant community announcement.
This technology provides for the functionality of immediate messaging, but it also allows for users to customize HOW he or she chooses to receive the messages.
While the system has many modern communication capabilities, it's important for residents to know the following:
Hub Alerts will only be used during critical moments or when the information has a direct impact on all residents*.

This system is

NOT

reflective of alerts from the National Weather Alert System, and will only deliver messages via text message, voice message by way of phone calls and emails.

All phone numbers and email addresses shared with Hub Alerts are stored securely and will NOT be shared or sold to other organizations.
To sign up, we've made it really easy! Simply text HBURG to 888-777 with your phone or fill out the form below. From there, you'll have the opportunity to edit how you receive messages.
Your safety is our highest priority, and we hope you'll choose to join us as we continue to enhance how we communicate with you.
---
*This is a voluntary program. Traditional message and data rates may apply, and you'll always have the opportunity to opt-out of the system.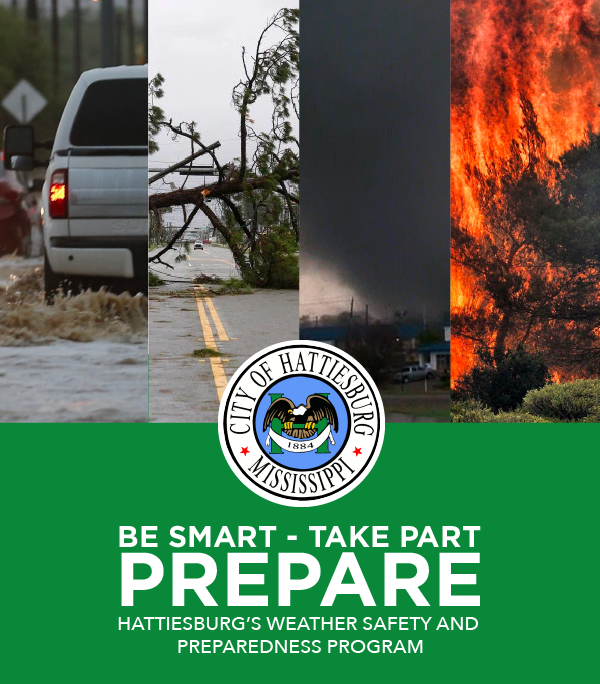 Due to its proximity to the Gulf Coast, the City of Hattiesburg is no stranger to natural disasters. Leading up to, during and after – the City strives to provide concise and real-time updates to all citizens so that they may adequately prepare for what is to come and know where to go and what to do after a storm takes place. Often, we get questions about how the City will communicate and where information can be gathered. The City of Hattiesburg will use every method it can to communicate with those who live and work here to make sure they know what is happening and what they should be doing.
Should a disaster strike, methods for communication will include:
This Website (hattiesburgms.com/stormcenter)
Facebook (facebook.com/CityofHattiesburg)
Twitter (twitter.com/Hattiesburg_MS)
Local radio and television stations
Action Line (601-545-4500)
Emergency Alert System (learn more about HUB Alerts)
In the event that the above methods are unavailable, messages will be physically posted on public buildings or used via loud speakers on police cruisers or other city vehicles will be used to communicate with residents.
During major emergencies, City representatives will be staffed at the Forrest County's Emergency Operations Center.
EMPLOYEE COMMUNICATIONS
Communication among city employees is also critical when managing or responding to a disaster. The city will use any or all of the following methods to communicate with staff members at various city facilities and in the field. These include:
Cell phones
Email
Two-way radios
Emergency Alert System (learn more about HUB Alerts)