Hattiesburg continues to beef up efforts to ensure children across the Pine Belt are prepared for school by the age 5 with the launch of another unique literacy project.  Hattiesburg Reads will be unveiled on Friday, February 19 at noon within Burger King, located at 806 Broadway Drive.
Burger King will become Hattiesburg Reads first business partner to build a library lounge within its establishment.  "I am thrilled that Burger King has joined our mission to increase literacy among our youth," said City of Hattiesburg Mayor, Johnny DuPree. "They will be able to change a child's life by simply introducing them to a book. This endeavor is also a great compliment to the community's Little Free Library initiative and Youth Master Plan."
"The Burger King management and staff, and our partners on this project, exemplify what I love most about our city. There are many people within our community who are willing to become engaged with city officials to determine how they can improve the lives of our citizens," said DuPree.
DuPree said it was "truly a team effort" with the unwavering support of Hattiesburg Excel by 5, Hattiesburg Public School District, William Carey University, The University of Southern Mississippi Council on Literacy and Reading, and the Area Development Partnership.
He hopes Hattiesburg Reads would inspire businesses across the nation to join this movement.   Burger King District Manager Joan Anderson wished the same.  "It is an honor to work for a Franchisee (Eugene and Patricia Brooks) who is so supportive of the community and this initiative around reading and literacy," said Anderson. "Mrs. Brooks, a former educator, was very excited when I discussed the proposal of having a reading lounge."
According to Anderson, Mr. Brooks earned his MBA in engineering and frequently encourages employees to seek higher learning through books, leadership conferences, college or any other avenues that will enhance their abilities.
"We understand that reading is fundamental in all aspects of life. This reading lounge will enable our young customers who will grow to be our adult customers and possibly employees an opportunity to either sit and read while dining or take a book home to further their reading experience. Our motto is "Reading feeds your mind. Burger King feeds your soul," she said.
For information on how to become a partner, visit www.hattiesburgms.com or contact the City of Hattiesburg Public Relations Department at 601.545.4508.

On May 24, 2016, City of Hattiesburg Mayor Johnny DuPree introduced the newest ally in the fight to combat illiteracy. O'Charley's became the second Hattiesburg restaurant to unveil a Hattiesburg Reads library lounge. Hattiesburg won the 2016 Mississippi Municipal League City Spirit Excellence Award for the program that allows kids to read a book while dining or take them home. City of Hattiesburg Mayor's office, educators, business owners, and Greater Hattiesburg Chamber of Commerce partnered to create a Reading Council and launch the Hattiesburg Reads. The intiative aims to ensure children are prepared for school by age 5. "We are thrilled to give back to our community," said O' Charley's General Manager Jason Fitz. "The books are flying off the shelves, but I guess it's a good problem to have," Fitz said. Residents are encouraged to become ambassadors of the program by donating children's books to participating establishments. O'Charley's is located at 4640 Hardy Street. For more information about the program, contact 601.545.4603.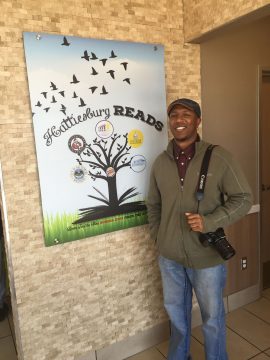 Combining the Pages
The Hattiesburg Read project included many partnerships alongside the City of Hattiesburg. The primary goal was to create a reading space that would engage the youth to read as a source of entertainment. The design team played a vital role in crafting the preliminary and final design phases.