Hattiesburg, Mississippi – This Saturday, March 27 and Sunday, March 28, the City of Hattiesburg, Forrest General and Hattiesburg Clinic will host its second two-day vaccination clinic at CE Roy Community Center (300 East 5th Street). 
This clinic will provide a walk-in, no appointment necessary opportunity for residents to receive the Janssen COVID-19 vaccine, which is a one-dose vaccination manufactured by Johnson & Johnson. The clinic will be open from 9 a.m. until Noon, and it will be first-come-first-served. There is no cost to the patient.
Currently, the eligibility to receive a COVID-19 vaccine includes all Mississippians who are age 16 and older. However, the age requirement for the Johnson & Johnson vaccine is for those who are 18 and older. Additionally, the community is encouraged to prioritize this event for those in underserved areas and for those who may not have access to book an appointment through the technology used by other vaccination sites.
"The work to remove barriers for underserved populations to access life-saving COVID vaccines is critical toward bringing this pandemic to an end. We are fortunate to have strong partnerships with all of our health care partners," said Mayor Toby Barker. "These partnerships have helped the Hattiesburg community expand testing sites, set good policy and make immunizations available to all. I look forward to seeing more of our residents get their immunizations this weekend at C.E. Roy Community Center."
This site will administer 250 vaccines on Saturday and 250 vaccines on Sunday. All participating patients who receive vaccines will wait in a holding area for 10-15 minutes to make sure there are no adverse reactions. 
"We have seen tremendous progress in the fight against COVID in the Pine Belt over the last two months, and one of the major reasons for that progress is that so many of our residents made the choice to be vaccinated.  Thankfully, we are seeing drastic declines in the numbers of positive cases, hospitalizations, and deaths," said Hattiesburg Clinic CEO Dr. Bryan Batson. "Over the last year of this battle, there have been many milestones, and one of them occurred in this building last month.  During the first vaccine clinic held in February, we vaccinated just over 500 patients with the Pfizer vaccine. The focus was on vaccinating patients who have limited access to internet or phone – and that focus remains for the upcoming vaccine clinic this weekend."
Mississippi has received a limited number of Johnson & Johnson vaccines and the Mississippi Department of Health has allotted these 500 vaccine doses specifically to Hattiesburg Clinic and Forrest General's Healthworks Immunization program for distribution at CE Roy Community Center. 
According to Batson, details regarding the vaccine include:
On February 27th, the Johnson & Johnson vaccine received emergency use authorization from the FDA.
Like Pfizer and Moderna, this is an excellent vaccine to help prevent COVID-19 and its complications.
In clinical trials, the J&J vaccine was nearly 100% effective in preventing hospitalization and death in patients who contracted COVID.
Two major differences that set this vaccine apart from Pfizer or Moderna are that J&J is a single-dose vaccine and it does not have to be frozen at low temperatures in special freezers.
Additionally, the CE Roy Community Center will continue to provide COVID-19 testing at no cost to patients on Mondays, Wednesdays and Fridays from 8 a.m. until Noon. For any resident who has questions or concerns regarding the vaccine or about the vaccine weekend, calls can be made to the Mayor's Office at 601-545-4501. 
##
SITE MAP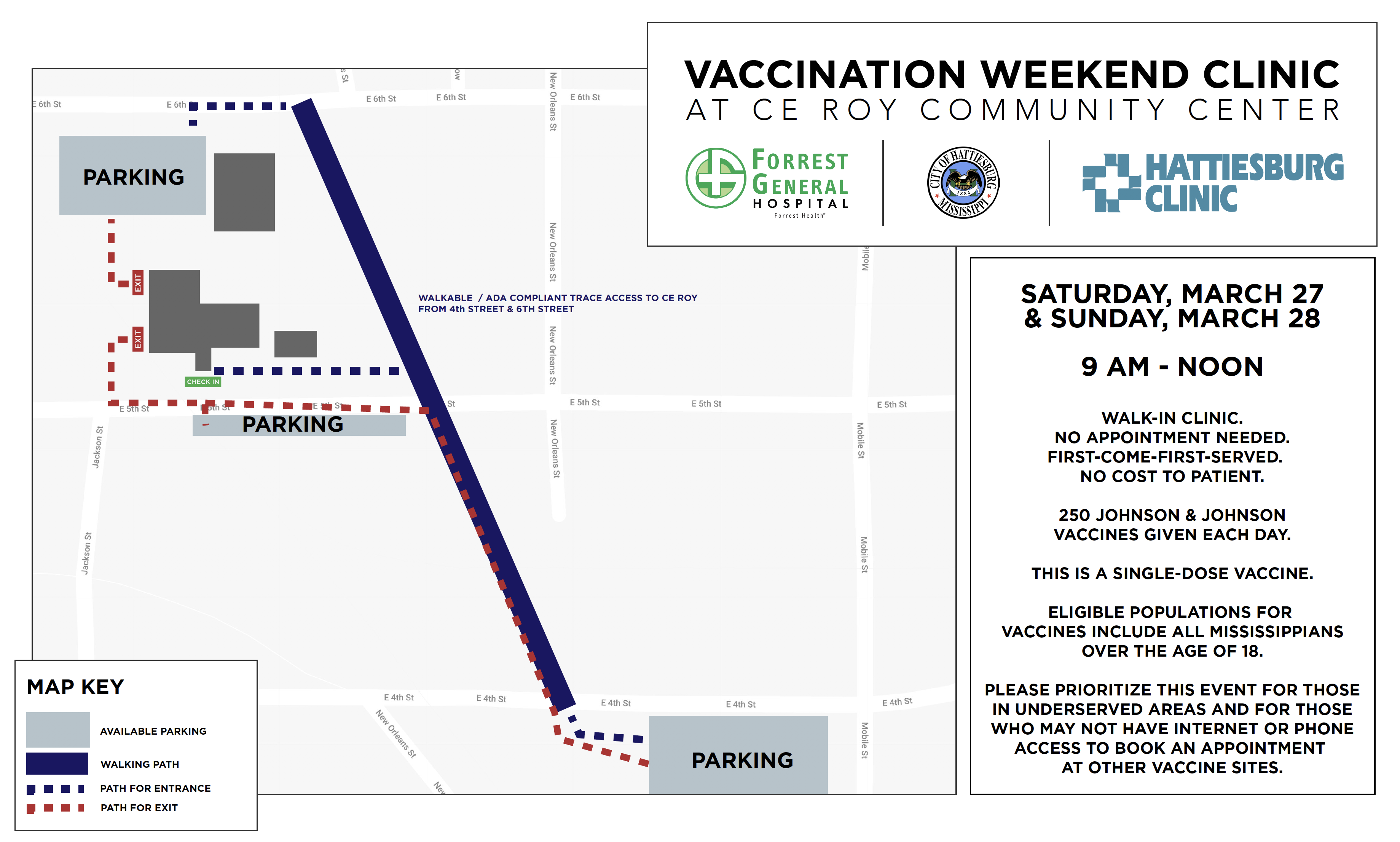 VIDEO
PHOTOS