Hattiesburg, Mississippi – On Tuesday, June 30 at a special-called council meeting to receive the 2019 audit, the Hattiesburg City Council also voted unanimously adopted a resolution to name the pavilion at Dewitt Sullivan Park in Palmers Crossing after Mr. Frankie L Benton, Sr. in honor of his commitment to the City of Hattiesburg and the progress of the Palmer's Crossing community.
Hattiesburg Mayor Barker read a resolution as a special presentation, which was followed by comments from Forrest County Board of Supervisor Rob Woullard and each member of the Council.
Barker said:
"The Dewitt Sullivan Park Pavilion project was one of the first recreational projects our administration and City Council broke ground on in partnership with Forrest County and was a great example of local government listening to neighborhood leaders. When history notes the many community advocates who made Hattiesburg what it is today, Mr. Frankie Benton will be at the top of that list. It was an honor to see this pavilion named after Mr. Benton.  I'm grateful for his friendship, his leadership in our community and his commitment to developing relationships with all of his elected officials – providing key advice when needed and never wavering on what he believes the Palmers Crossing and South Hattiesburg community needs and deserves."
The pavilion was a long-time dream of Benton as a need for the Palmers community. In partnership with the Forrest County Board of Supervisors, the City broke ground on the pavilion in April of 2018. That following September, the ribbon was ceremoniously cut to mark the completion of the project. Benton joined both city and county leaders for both occasions.
##
Full-Text of Resolution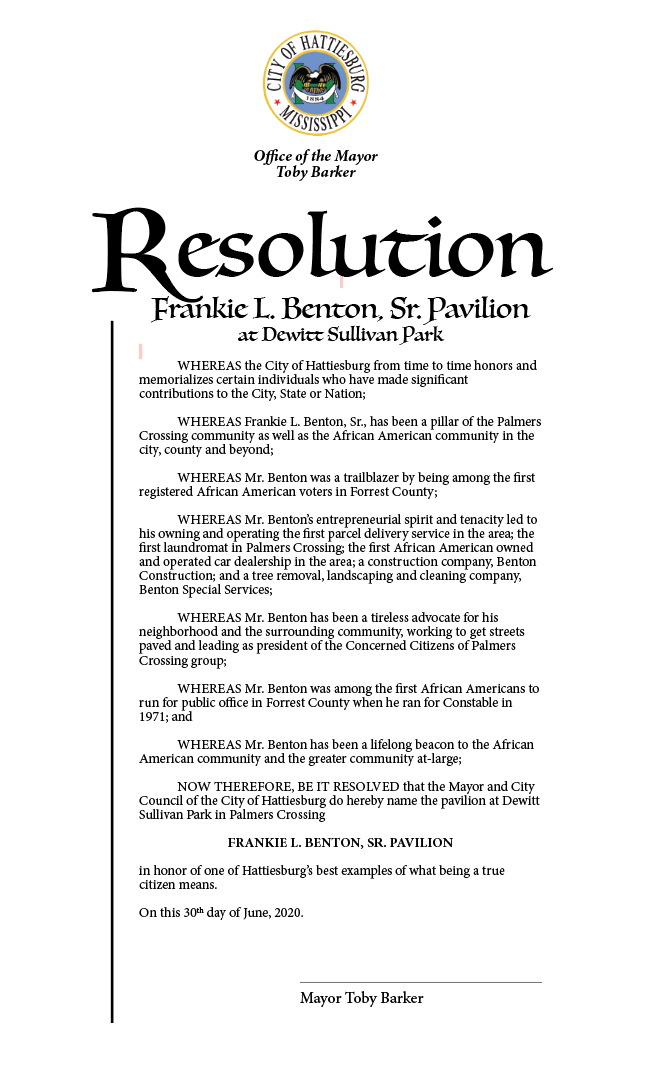 WHEREAS the City of Hattiesburg from time to time honors and memorializes certain individuals who have made significant contributions to the city, state or nation;
WHEREAS Frankie L. Benton, Sr. has been a pillar of the Palmers Crossing community, as well as the African American community in the city, county and beyond;
WHEREAS Mr. Benton was a trailblazer by being among the first registered African American voters in Forrest County;
WHEREAS Mr. Benton's entrepreneurial spirit and tenacity led to his owning and operating the first parcel delivery service in the area; the first laundromat in Palmers Crossing; the first African American owned and operated car dealership in the area; a construction company, Benton Construction; and a tree removal, landscaping and cleaning company, Benton Special Services;
WHEREAS Mr. Benton has been a tireless advocate for his neighborhood and the surrounding community, to working streets paved and leading as president of the Concerned Citizens of Palmers Crossing group;
WHEREAS Mr. Benton was among the first African Americans to run for public office in Forrest County when he ran for Constable in 1971; and
WHEREAS Mr. Benton has been a lifelong beacon to the African American community and the greater community-at-large;
NOW, THEREFORE, BE IT RESOLVED that the Mayor and City Council of the City of Hattiesburg do hereby name the pavilion at Dewitt Sullivan Park in Palmers Crossing
"FRANKIE L. BENTON, SR. PAVILION"
in honor of one of Hattiesburg's best examples of what being a true citizen means.
Photos from Presentation of Resolution to Name Pavilion for Benton
Video of Pavilion Ribbon Cutting
Photos of Pavilion Ribbon Cutting
Video of Pavilion Groundbreaking

Photos of Pavilion Groundbreaking