Meet local employers in the restaurant + hospitality industries who have immediate hiring needs, along with businesses and industries that could spark promising careers. Hiring opportunities are for those ages 16+.
Employers will be spaced out to accommodate COVID-19 protocols. Should large crowds form, we'll work with community center staff to help with entry and exit during the event.
There is plenty of parking available to you in and around Downtown Hattiesburg, although some may put you a short walk from the event. For available spaces, see the map below.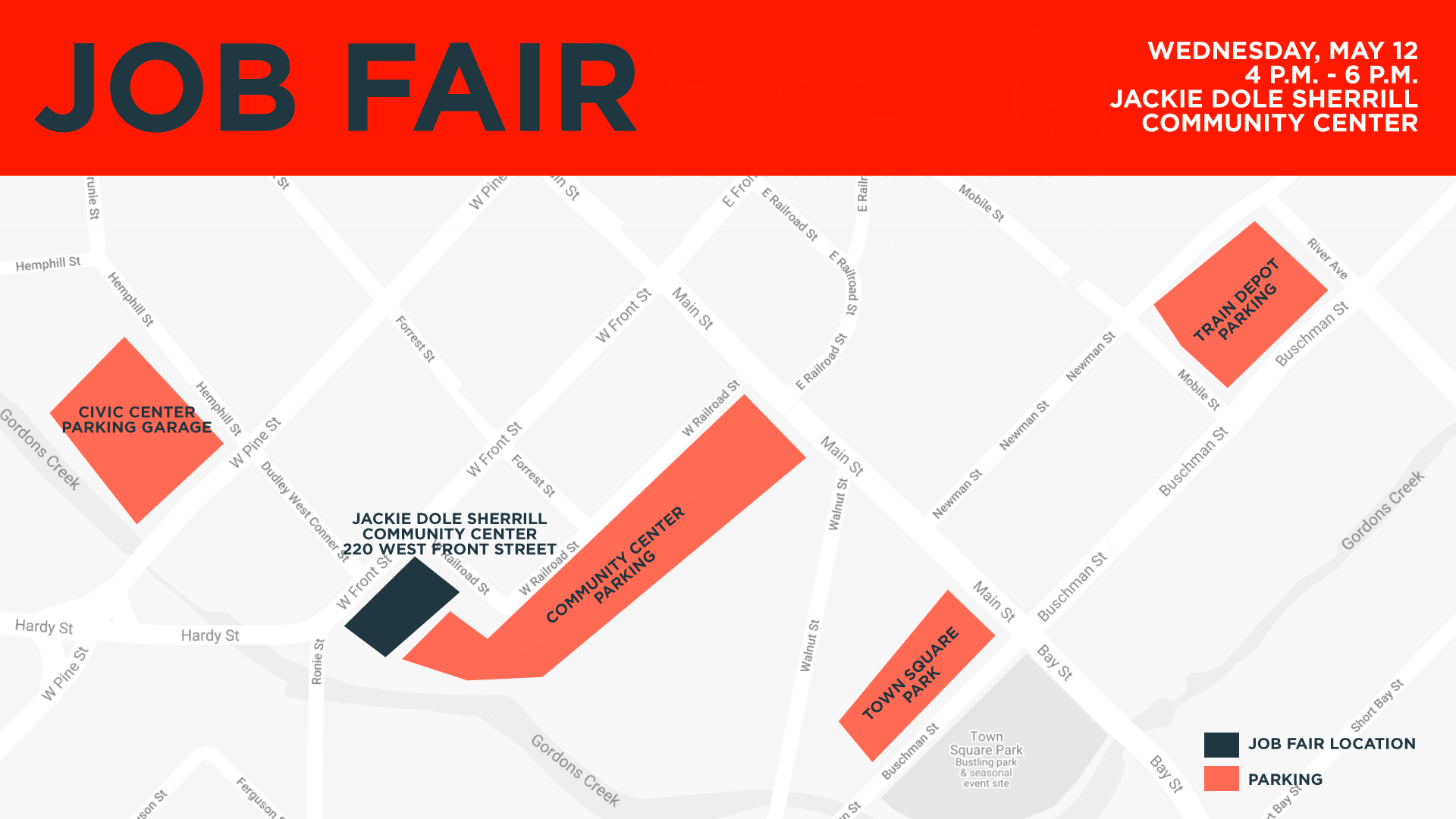 Participating Employers Include:
Hattiesburg Parks & Recreation
Hattiesburg Fire Department
Hattiesburg Police Department (Official)
Walk-On's Sports Bistreaux
Mugshots Grill & Bar- Hattiesburg, MS
Patio 44 – Hattiesburg, MS
Holiday Inn Hattiesburg – North
Burger Theory – Hattiesburg
Stokes Distributing
Keg and Barrel
Blu Jazz Cafe
Nellie's Chicken and Daiquiris
SouthBound Bagel & Coffee Shop
New South Restaurant Group
Ed's Burger Joint
The Mahogany Bar
El Rayo
Crescent City Grill
Fuzzy's Taco Shop
Avid Hotel-Hattiesburg
Raising Cane's #044
Forrest General Hospital
Rainforest Carwash Hardy
Waffle House
Chick-fil-A Hattiesburg
Coca Cola Hattiesburg
Sweet Peppers Deli – Hattiesburg,MS
cAlister's Deli | Chicken Salad Chick
Residence Inn by Marriott Hattiesburg
Courtyard by Marriott Hattiesburg Mississippi
Burger King | Channel Control Merchants, LLC
Food Services, Inc. at Camp Shelby
Regions Bank
Pearl River Community College Workforce
PYRO'S Fire Fresh Pizza
Main Squeeze Juice Co. – The District at Midtown
Grifols – Hattiesburg, MS
Southern Fitt, Health & Wellness, LLC
If you are interested in serving as a vendor, please email smccain@hattiesburgms.com.