Join the City of Hattiesburg for a unique Bike to Work Challenge, kicking off April 29!
For two weeks, all residents are encouraged to explore a bikeable Hattiesburg, while qualifying for Hattiesburger-approved prizes.
To participate, follow these easy steps:
Download the official Bike to Work Passport by clicking the image below.

Bike to work for as many days as possible between April 29 and May 10, and have your supervisor sign off in the designated box for each day as proof.
Turn in your passport electronically (by scan or photo) to mayor@hattiesburgms.com, via the form at the bottom of this page or in person to the Mayor's Office in City Hall (200 Forrest Street) by 5 p.m. on May 15.
Win prizes! Winners will be announced on Bike to Work Day, May 17.
PRIZE CATEGORIES
Best participation (based on rate days worked v. days biked)
Most miles traveled
Most complicated route
Social Media Awards – pop-up prizes will be given for those who chronicle their B2W journey through the use of #B2WHBURG on Facebook, Instagram or Twitter.
We'll also recognize the employer with the most participants.
Prizes include tickets to City Lights + Music Nights concerts, Southern Miss Baseball tickets, season tickets (2) to Southern Miss Football, signed Southern Miss merchandise, gift cards for local eateries, tune-up vouchers for Moore's Bike Shop, Hattiesburg Zoo passes and much more!
TRAILS, LANES & PATHS – OH MY!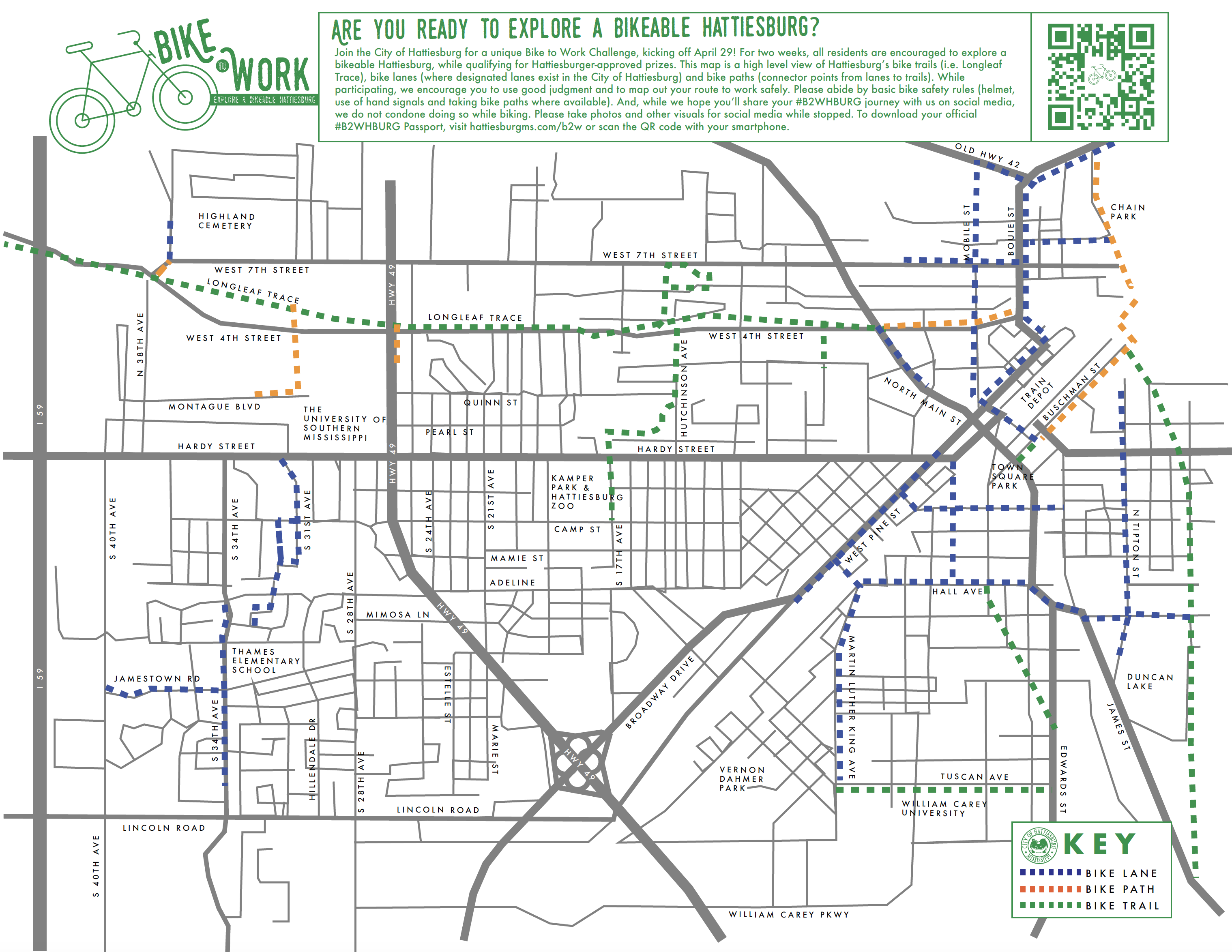 This map is a high-level view of Hattiesburg's bike trails (i.e. Longleaf Trace), bike lanes (where designated lanes exist in the City of Hattiesburg) and bike paths (connector points from lanes to trails). While participating, we encourage you to use good judgment and to map out your route to work safely.
BIKE SAFETY & SOCIAL MEDIA USE
Please abide by basic bike safety rules (helmet, use of hand signals and taking bike paths where available). And, while we hope you'll share your #B2WHBURG journey with us on social media, we do not condone doing so while biking. Please take photos and other visuals for social media while stopped. See the five basic rules of application for riding safely:
FOLLOW THE LAW
You have the same rights and responsibilities as drivers. Obey traffic signals and stop signs. Ride with traffic; use the rightmost lane headed in the direction you are going.
BE PREDICTABLE 
Make your intentions clear to everyone on the road. Ride in a straight line and don't swerve between parked cars. Signal turns, and check behind you well before turning or changing lanes.
BE CONSPICUOUS
Ride where people can see you and wear bright clothing. Use a front white light, red rear light and reflectors when visibility is poor. Make eye contact with others and don't ride on sidewalks.
THINK AHEAD
Anticipate what drivers, pedestrians, and other people on bikes will do next. Watch for turning vehicles and ride outside the door zone of parked cars. Look out for debris, potholes, and other road hazards. Cross railroad tracks at right angles.
RIDE READY
Check that your tires are sufficiently inflated, brakes are working, chain runs smoothly, and quick release levers are closed. Carry tools and supplies that are appropriate for your ride. Wear a helmet.
For more resources, check out this site from the League of American Cyclists.
PARTNERS
A program like this takes a good bit of help from our friends. When you are out and about, please say a special thank you to our promotional partners and prize partners:
Click here to change this text