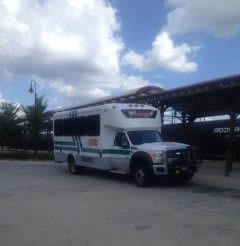 Introduction
The Mass Transit Division provides cost effective and innovative means of public transportation on four fixed routes for more than 10,000 Hattiesburg citizens as well as more than 4,000 elderly and disabled persons.
The Federal Transit Administration funds the Hub City Transit with yearly allocations. Currently, the earmarked funds from FTA has allowed the city to transform the old Hattiesburg Train Depot to a new Hattiesburg Intermodal Center at a cost of $7.4 million dollars. The Depot will function as the main terminal for the Hub City Transit.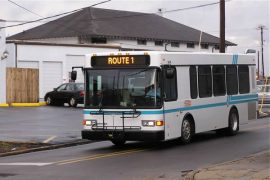 DEMAND-RESPONSE PARA TRANSIT SERVICE
HUB CITY TRANSIT provides Para Transit Services Monday through Friday from 6:00 a.m. to 6:30 p.m., for qualified individuals with mobility impairments who are unable to use Fixed Route Service. Our Para Transit Service is a demand-responsive, advance reservation, address-to-address and door to door service. Eligible passengers are not required to live within Hattiesburg City limits of service area. Wheelchair accessible vehicles are available to assist in transporting persons with disabilities.
An ADA Para Transit Eligibility Application will be used to determine your eligibility for HCT Para Transit Service. This information is confidential and will not be shared except with persons involved with HCT Transits eligibility determination process. The application processing time is approximately two weeks, and individuals will receive a written notification letter by mail. Re- Certification for Para Transit Service is required every three years.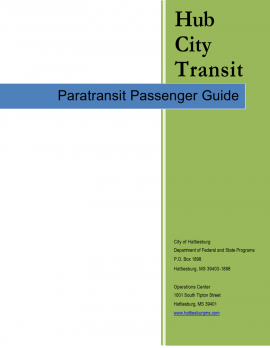 PARATRANSIT PASSENGER GUIDE
Fixed Route Service
Our Fixed Route Service is available to the public for a minimal fare and can be accessed at any HCT bus stop. Fixed Route passengers may also request reasonable
accommodations
within the safety guidelines of our services. Requests may be made through the Contact form at the bottom of the page, or by calling our office. Hub City Transit's Fixed Route Maps and Schedules are listed below.
Printable Forms
HCT Request for Appeal

HCT Request for Reasonable Accommodations

HCT Title VI Complaint Form
HELPFUL TIPS WHEN CALLING
Hub City Transit
Have pencil and paper ready
Be ready to tell the Receptionist: 1. Your name and address where you want to be picked up from and provide complete physical address. 2. Where you are going - Name of Business or Dr.'s Office and its complete physical address. 3. The time you would like to get there or the time of your appointment. 4. You may request a return trip from your destination. 5. If you have an escort or personal care attendant traveling with you.
Be prepared to have an alternate time to conduct your business in case we are unable to meet your requested time. ONE to FOURTEEN DAYS ADVANCE NOTICE IS NEEDED WHEN CALLING TO SCHEDULE AN APPOINTMENT. PLEASE CALL 601.545.4670 TO SCHEDULE YOUR TRIP.
DEMAND RESPONSE POLICIES
An hour advance notice is required to cancel transportation services. Cancellations are handled on a point system, refer to the Passenger Guide for further information.
Failure to show-up at your pickup location at the designated time of pickup and failure provide an hour cancellation notice is considered a NO-SHOW. No Shows are handled on a point system, refer to the Passenger Guide for further information.
HCT utilizes a 30-minute window for scheduled passenger pickups. The window is defined as follows: A passenger calls to schedule transportation services at 9:00 a.m. HCT Transit can arrive to pick up the passenger as early as 8:30 a.m. or as late as 9:45 p.m., from the scheduled time of pickup.
Drivers are only allowed to wait 5 minutes for the passenger (s) to show. If the passenger(s) do not show up within this period, the pickup is considered a NO-SHOW. HCT drivers are not allowed to wait while a passenger conducts business. A return trip will need to be scheduled or the passenger may call for a pick up when ready.
The fixed route service provides transportation to all citizens of the Hattiesburg area. There are four routes, which run Monday thru Fridays. All routes start at 6:00 a.m. to 6:30 p.m., from the newly renovated Hattiesburg Intermodal Facility (Train Depot) located at 308 Newman St.
Information about HCT's services can be provided in
alternative formats upon request. Please contact Hub City Transit at (601)606-6039 or email the Disability Advocate at kweeks@hattiesburgms.com.
HCT will provide the requested alternative format within a reasonable time.
Hub City Transit is committed to providing reasonable accommodations for all passengers with a disability. You may request any form or guide to be sent over video phone or in a large print version.
HCT SCHEDULE
Buses run from 6:00 a.m. until 6:30 p.m. Monday through Friday, except on the following holidays: New Year's Day, Fourth of July, Labor Day, Thanksgiving Day and Christmas Day. HCT will give advance notice of the days the system will be shut down.
HCT FARES
► Regular Fare..............................$.50
► Children (Ages 5- High School) $.25
► Senior Citizens (62 yrs and up)..........................$.25
► Disabled with ID........................$.25
► HCT ID or Medicare........................$.25
CALLING OUT STOPS
In accordance with the Americans with Disabilities Act of 1990 (ADA), all operators on fixed route services announce stops as follows:
► Major stops/time points along the route
► Transfer locations and routes which serve them
► Major intersections
► Stops upon request
This service provides any passenger with information and orientation along the route and throughout the service area.
Route Times
1. Hardy - 6 am to 6 pm
2. Dabbs - 6:30 am to 6:30 pm
3. Mobile - 6:30 am to 6:30 pm
4. Palmers - 7 am to 12 pm and 2 pm to 5 pm
FTA Compliance: Adopt Procedure for Soliciting Public Comment Prior to Fare Increases and Major Service Reductions
Contact Information
MAILING ADDRESS City of Hattiesburg Department of State & Federal Programs P.O. Box 1898 Hattiesburg, MS 39403-1898 PHYSICAL ADDRESS Hattiesburg Intermodal Facility 308 Newman Street Hattiesburg, MS 39401
Hub City Transit Division Manager
Vincent Nelms 601.545.4670 vnelms@hattiesburgms.com
Office Manager
Sharon Bolton 601.545.3356 sbolton@hattiesburgms.com
Office Assistant
Cheryl Turnage 601.545.4671 cturnage@hattiesburgms.com
---