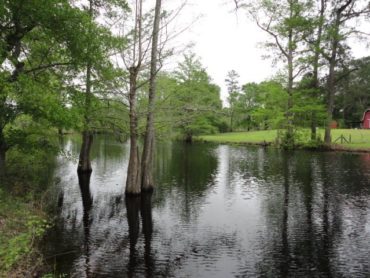 Read More
City of Hattiesburg Flood Ordinance
The Legislature of the State of Mississippi has in Title 17, Chapter 1, Mississippi Code 1972 Annotated delegated the responsibility to local government units to adopt regulations designed to promote the public health, safety, and general welfare of its citizenry. Therefore, the governing body of the City of Hattiesburg does hereby adopt the following floodplain management regulations.
THE FLOOD HAZARD
The flood hazard in Hattiesburg comes primarily from The Leaf River and its tributary Creeks including: Gordon, Mixon, Burkett and Priest, which are within the Pascagoula River Basin.  Some areas experience local flooding not directly associated with a river or creek.  Floods in Hattiesburg are of relatively short duration. After an intense rainfall floodwaters can rise at a rate of two to three feet per hour reaching maximum stage in two hours (or less).  Floodwaters in some areas of the city can attain substantial velocities. April 6, 1983 was the last flood involving major river flooding with a river stage of 29.19 ft, and over 32 million dollars in damage.  The latest flash floods were in the Mixon Creek basin area in January and March 1999 with rainfall characteristics that may have been in the range of the 500-year and 100-year frequencies, respectively.
Visit Flood Dangers in Hattiesburg for More Information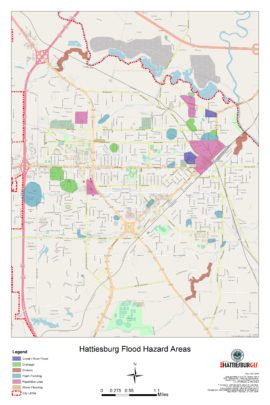 Click Here to Enlarge Map
Hattiesburg Flood Hazard Areas
The Flood Hazard Area map shows which areas are affected by flooding. It is important that we keep this data updated. If your're aware of an address with repetitive flooding, please complete the Flooding Questionnaire Form or contact 601.545.4599 for more information.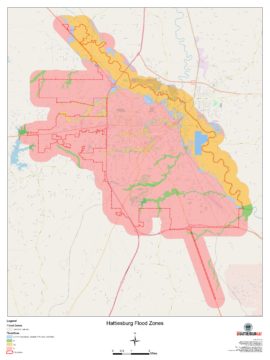 Click Here to Enlarge Map
Flood Zones
The City of Hattiesburg is divided into 4 flood zones (A, AE, X, & B). Zones A and AE are Special Flood Hazard Areas which require special attention to our Flood Ordinance during development inquires. Zones X and B are non SFHA, but flood insurance is HIGHLY RECOMMENDED. To check your flood zone, please visit our Property Search page of FEMA'S Flood Map Service Center. For more information, please contact 601.545.4599.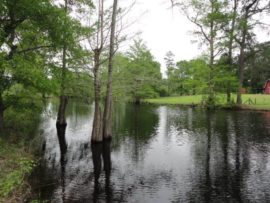 Click to View Proposed Dates
Public Hearing Meeting and Agendas
On June 5, 2018, City Council approved the Resolution to establish a Floodplain Management Planning Committee for commitment to produce an overall strategy of programs and measures that will reduce the adverse impact of the flood hazard and help meet other community needs it the City of Hattiesburg.
This is an interactive map showing the structures and neighborhoods that are at risk if river flooding were to occur in Hattiesburg, MS. *Click on icon left of map to view the layers.*
FLOOD WARNING SYSTEM
The Emergency Management District receives readings twice a day from the Jackson Weather Service for river flooding. The District also maintains their own gauges on the Leaf River and Gordon's Creek, which are read daily. The Emergency Management District also monitors the National Weather Service data network, via a computerized satellite receiver system, on a 24 hour / 7 day basis. In the event of an actual flood, the Emergency Management District will immediately notify all local television and radio stations, local schools, government offices, etc.

The Emergency Management District is a key agency in a disaster situation, we need not be "in charge"; rather, our responsibility is to ensure that someone is "in charge" – and that that person has access to the resources, skills, and knowledge necessary to manage the situation effectively. The single most crucial aspect of effective emergency management is making sure before a disaster occurs responsibility, authority, and channels of communication are clearly delineated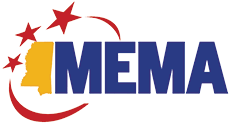 The mission of the Mississippi Emergency Management Agency is to coordinate activities that will save lives, protect property and reduce suffering of Mississippi's citizens and their communities impacted by disasters through a comprehensive and integrated program of disaster preparedness, response, recovery and mitigation initiatives.
Flood Insurance
The City of Hattiesburg has enacted and enforces ordinances designed to minimize the severity of future flood damages.  By doing so, relatively low cost flood insurance is made available from the Federal government through licensed property insurance agents.  This insurance may be obtained to cover future flood related losses to most structures and their contents.  THIS IS IMPORTANT BECAUSE FLOOD DAMAGE IS NOT COVERED BY NORMAL HOMEOWNERS' INSURANCE.The City of Hattiesburg is a member of the National Flood Insurance Program's Community Rating System, a voluntary incentive program that recognizes and encourages community floodplain management activities that exceed the minimum NFIP requirements. As a result, flood insurance premium rates are discounted to reflect the reduced flood risk resulting from the community actions meeting the three goals of the CRS: 1) Reduce flood losses; 2) Facilitate accurate insurance rating; and 3) Promote the awareness of flood insurance.
To check your individual flood hazard, floodplain maps and reference materials are available in the Land Code Department, on the first floor of City Hall, and are also available at the Hattiesburg Public Library and U.S.M. Cook Memorial Library.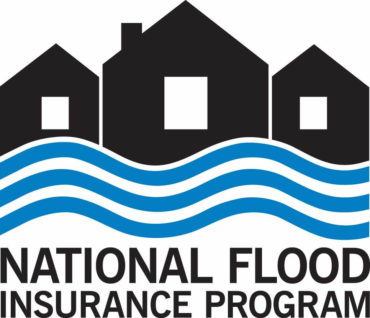 For more information regarding flood insurance, please visit the National Flood Insurance Program's website 

To obtain a personal copy of the current floodplain maps or view the maps online, please visit FEMA's Map Service Center

For more information about the National Flood Insurance Program's Community Rating System, please click above: 
SUBSTANTIAL IMPROVEMENT REGULATIONS
The City of Hattiesburg has flood damage prevention regulations that may affect how you remodel, renovate, or add on to your building.  If your home is below the 100-year flood elevation, then the "cumulative substantial improvement" rule applies.  "Cumulative substantial improvement" means any reconstruction, rehabilitation, addition, or other improvement to a structure totaling 50% of the fair market value of the structure during a 5-year period.  Should the amount of work reach or exceed 50%, then the entire structure must be brought into compliance with Hattiesburg's flood damage prevention regulations. Substantially damaged structures, due to fire or any other reason, must be brought up to the same standards if the cost of repairs equals or exceeds 50% of the structure's value before it was damaged and must be elevated above the base flood elevation.  
For more information regarding retrofitting existing structures, please visit the following FEMA resources,
http://www.fema.gov/library/
and Normal
http://www.forresteoc.com/
.
FLOODPLAIN DEVELOPMENT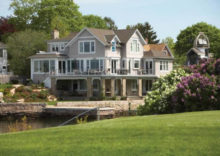 To help limit the severity of floods and resulting damages, a Building Permit must first be obtained any time development is to take place within Hattiesburg. The proposed work is checked for compliance with the City's Flood Damage Prevention Ordinance. Development within the floodplain is closely controlled, and is prohibited if any increase in the flood hazard results. "Development" means "any man-made change to improved or unimproved real estate, including, but not limited to, buildings or other structures, mining, dredging, tilling, grading, paving, excavating, drilling operations, or permanent storage of materials."  You should always check with the City Building Official before carrying out any of these types of work, or if you suspect work is being done that has not been permitted by the City.
DRAINAGE SYSTEM MAINTENANCE AND PROHIBITING STREAM DUMPING
The City assumes responsibility for: drainage ways ON CITY PROPERTY (such as through a City park or under a City street). Individual property owners are responsible for maintaining the drainage systems on their property as well as the free flow of water within the area of the 100-year floodplain limits.  They should not erect solid fences near drainage ditches that would prohibit water flow, and they should regularly check for and remove accumulated debris or man-made obstructions.  Improper maintenance should be reported to the City Action Line at:  601-545-4500. It is unlawful for any person to throw, deposit, empty, drain or run into any creek or tributary, their margins, slopes or banks any garbage, rubbish, refuse of any kind.  It is also unlawful for any person to build any structure over any creek, tributary, or any part thereof without first obtaining a permit, this ensures that the structure in no way obstructs the flow of water in the creek or causes an accumulation of debris, logs, trees, trash or any other matter in the creek or its tributaries.