THE FLOOD HAZARD
The flood hazard in Hattiesburg comes primarily from The Leaf River and its tributary Creeks including: Gordon, Mixon, Burkett and Priest, which are within the Pascagoula River Basin.  Some areas experience local flooding not directly associated with a river or creek.  Floods in Hattiesburg are of relatively short duration. After an intense rainfall floodwaters can rise at a rate of two to three feet per hour reaching maximum stage in two hours (or less).  Floodwaters in some areas of the city can attain substantial velocities. April 6, 1983 was the last flood involving major river flooding with a river stage of 29.19 ft, and over 32 million dollars in damage.  The latest flash floods were in the Mixon Creek basin area in January and March 1999 with rainfall characteristics that may have been in the range of the 500-year and 100-year frequencies, respectively.
FLOOD WARNING SYSTEM
The Emergency Management District receives readings twice a day from the Jackson Weather Service for river flooding.  The District also maintains their own gauges on the Leaf River and Gordon's Creek, which are read daily.  The Emergency Management District also monitors the National Weather Service data network, via a computerized satellite receiver system, on a 24 hour / 7 day basis.  In the event of an actual flood, the Emergency Management District will immediately notify all local television and radio stations, local schools, government offices, etc.
River and current weather data can be viewed at The Emergency Management District's website.
Additional flood protection measures can be found at the Mississippi Emergency Management's Website
FLOOD INSURANCE
The City of Hattiesburg has enacted and enforces ordinances designed to minimize the severity of future flood damages.  By doing so, relatively low cost flood insurance is made available from the Federal government through licensed property insurance agents.  This insurance may be obtained to cover future flood related losses to most structures and their contents.  THIS IS IMPORTANT BECAUSE FLOOD DAMAGE IS NOT COVERED BY NORMAL HOMEOWNERS' INSURANCE.The City of Hattiesburg is a member of the National Flood Insurance Program's Community Rating System, a voluntary incentive program that recognizes and encourages community floodplain management activities that exceed the minimum NFIP requirements. As a result, flood insurance premium rates are discounted to reflect the reduced flood risk resulting from the community actions meeting the three goals of the CRS: 1) Reduce flood losses; 2) Facilitate accurate insurance rating; and 3) Promote the awareness of flood insurance.
To check your individual flood hazard, floodplain maps and reference materials are available in the Land Code Department, on the first floor of City Hall, and are also available at the Hattiesburg Public Library and U.S.M. Cook Memorial Library.
For more information regarding flood insurance, please visit the National Flood Insurance Program's website 
To obtain a personal copy of the current floodplain maps or view the maps online, please visit FEMA's Map Service Center
For more information about the National Flood Insurance Program's Community Rating System, please click below: 
SUBSTANTIAL IMPROVEMENT REGULATIONS
The City of Hattiesburg has flood damage prevention regulations that may affect how you remodel, renovate, or add on to your building.  If your home is below the 100-year flood elevation, then the "cumulative substantial improvement" rule applies.  "Cumulative substantial improvement" means any reconstruction, rehabilitation, addition, or other improvement to a structure totaling 50% of the fair market value of the structure during a 5-year period.  Should the amount of work reach or exceed 50%, then the entire structure must be brought into compliance with Hattiesburg's flood damage prevention regulations. Substantially damaged structures, due to fire or any other reason, must be brought up to the same standards if the cost of repairs equals or exceeds 50% of the structure's value before it was damaged and must be elevated above the base flood elevation.
For more information regarding retrofitting existing structures, please visit the following FEMA resources, http://www.fema.gov/library/ and Normal http://www.forresteoc.com/.
FLOODPLAIN DEVELOPMENT
To help limit the severity of floods and resulting damages, a Building Permit must first be obtained any time development is to take place within Hattiesburg. The proposed work is checked for compliance with the City's Flood Damage Prevention Ordinance. Development within the floodplain is closely controlled, and is prohibited if any increase in the flood hazard results. "Development" means "any man-made change to improved or unimproved real estate, including, but not limited to, buildings or other structures, mining, dredging, tilling, grading, paving, excavating, drilling operations, or permanent storage of materials."  You should always check with the City Building Official before carrying out any of these types of work, or if you suspect work is being done that has not been permitted by the City.
DRAINAGE SYSTEM MAINTENANCE AND PROHIBITING STREAM DUMPING
The City assumes responsibility for: drainage ways ON CITY PROPERTY (such as through a City park or under a City street). Individual property owners are responsible for maintaining the drainage systems on their property as well as the free flow of water within the area of the 100-year floodplain limits.  They should not erect solid fences near drainage ditches that would prohibit water flow, and they should regularly check for and remove accumulated debris or man-made obstructions.  Improper maintenance should be reported to the City Action Line at:  601-545-4500. It is unlawful for any person to throw, deposit, empty, drain or run into any creek or tributary, their margins, slopes or banks any garbage, rubbish, refuse of any kind.  It is also unlawful for any person to build any structure over any creek, tributary, or any part thereof without first obtaining a permit, this ensures that the structure in no way obstructs the flow of water in the creek or causes an accumulation of debris, logs, trees, trash or any other matter in the creek or its tributaries.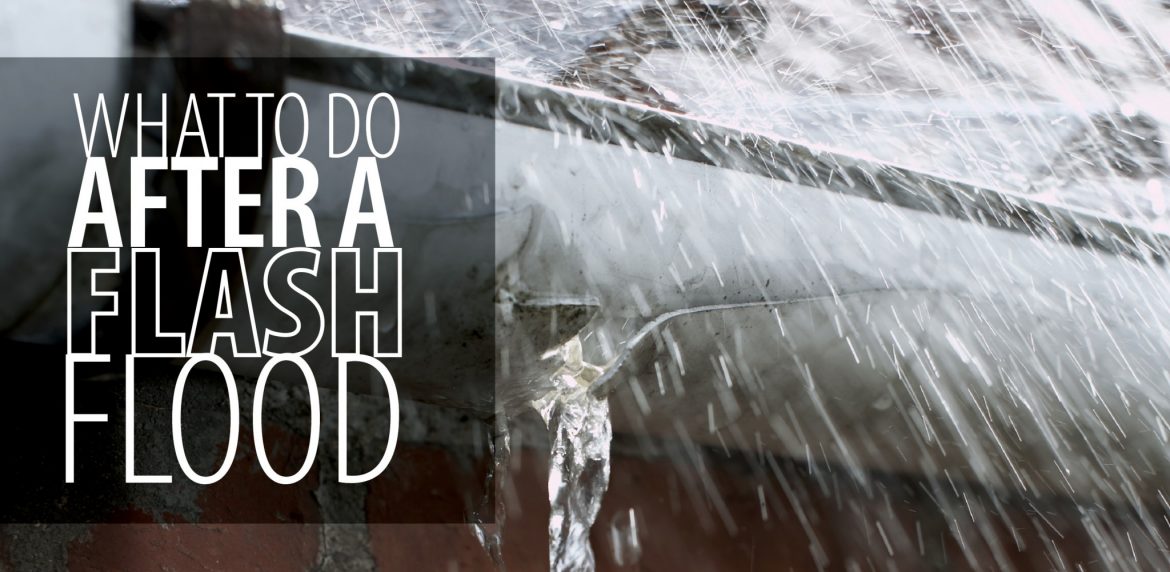 The unthinkable has occurred. Your home or business has been the casualty of a flash flood. What should you do? What happens next? While your questions and emotions surge as the water recedes, keep in mind that
flash flood recovery
, unlike its source, is not a here and gone endeavor…
Immediately following a flash flood:
Stay tuned in. During flash flood recovery, it is essential to listen to local radio, TV, or your weather radio for necessary information. Flood dangers may still be present even after the water has receded. These news outlets will keep you informed of when it is safe to return or venture out.
Assess utilities. Turn off electrical if you see sparks, broken/frayed wires, or smell smoke/burning insulation. If you have to step in water to get to a fuse box or circuit breaker, consult an electrician for advice. If water or sewage lines have been damaged, consult a licensed plumber straightaway. If you smell natural gas or propane or hear a hissing noise, vacate the area immediately and contact the fire department.
Don't drink the water. Do not drink tap or well water until it is has been declared safe for consumption and free of human waste contamination, fuels, and other pollutants. Don't use it to brush teeth, prepare food, wash dishes, make ice, or even wash your hands with it. Undamaged water heaters and melted ice cubes may offer a clean source of water to get you by. If you don't have access to safe water:

Boil water: Boil for one minute, then cool, storing in clean, covered containers. This will destroy most types of disease-causing microorganisms.
Bleach: Bleach will kill some – but not all - types of bacteria. 1/8 teaspoon or eight drops of regular, unscented, liquid household bleach per gallon should be used. Let water stand 30 minutes before using.

Be overprotective. Keep a close eye on children of all ages as well as pets.
Avoid flood-ravaged areas. Barricades have been erected for your protection. Additional flooding may occur, roads may have been damaged, and an array of hazards – both visible and invisible – may be present. Staying off of roadways also helps emergency workers more easily get to flood victims in need of flash flood recovery.
Keep away from moving water. Just six inches of moving water can knock you off your feet, and a couple of feet can carry away most vehicles. Avoid moving water at all costs.
If you must travel, use extreme caution. Only travel through flood damaged areas when absolutely necessary. If you must travel, wait till water has stopped moving, wear sturdy shoes, and use a stick to gauge depth and firmness prior to taking each step. Be wary of contaminated water (gas, sewage, etc.), electrical hazards, hidden animals, dangerous debris, eroded roads and walkways, and more that can quickly land you in a dangerous situation whether you are traveling by foot or car. Avoid entering any structure surrounded by floodwaters that may be weakened until they have been declared safe from collapse.
Cleaning up and repairing:
Get help.
Disinfection protection. Once floodwaters have receded, carefully clean and disinfect each wet item to protect your home and family from sewage or chemical contaminants. Be certain to wear protective clothing, including rubber gloves and boots, during cleanup activities. Not sure where to start? Depending on the amount of water damage in your home, carpet cleaning, upholstery cleaning and mold remediation will get your home looking and feeling like it should.
Floods and food. Any items that have come in contact with floodwater should be thrown out. This includes bottled water, canned goods, plastic utensils, baby bottles, and more. When in doubt, throw it out!
Scammers and con artists. Hire only professional, reputable contractors for cleanup and repair needs. Avoid the "drive-by" contractor.
Safe drainage. Should your basement become flooded, drain it gradually – about 1/3 per day – to prevent structurally damage and collapse that may result from rapid water removal.
Insurance claims. Contact your insurance agents to discuss flash flood recovery claims. The typical homeowner's insurance policy does not cover flood damage. Call to verify coverage before flash flooding – and the need to file a claim – affects you.
Need help? Stay tuned to your TV or radio during flash flood recovery for information on assistance available in your area through government or other organizations.