What is a Mayor's Youth Council?
A Mayor's Youth Council is a group of young people working toward the common purpose of developing their individual leadership skills to strengthen their communities through volunteer service and increased communication with municipal leaders.  Youth develop and lead initiatives with  the support of adult mentors. A Mayor's Youth Council is more than just a service club because members determine to train and involve their peers in service leadership. They also provide valuable insight on issues affecting youth and the community.
What do Mayor's Youth Councils do?
Raise youth related issues with community leaders
Event management grant writing/giving
Training for peers
Practice public speaking
Recruiting volunteers
Volunteer newsletters
Youth forums
Training for teachers/organizations
Speaker bureaus-Bringing in experts on a subject
Service Projects
National Day of Service
Advice Sharing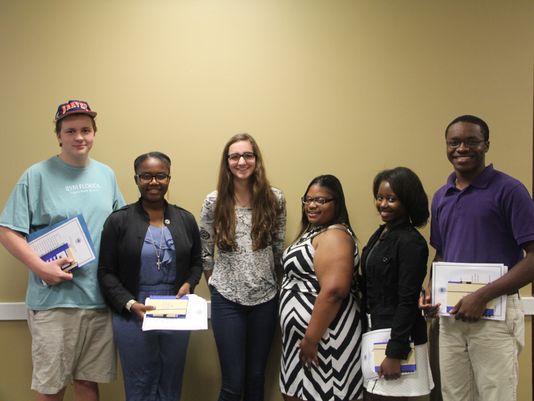 Some see their involvement with the Mayor's Youth Council as an early networking adventure, to make contacts not only within their peer group but also with those capable of sharing their life experiences. For others, it is a glimpse of government, its nuts and bolts and machinations that make a body politic hum and thrum.
But for all, the Mayor's Youth Council is a conduit for involvement, a step into the role of volunteer who tries to make a difference before the final act. "We're community-based, so we're out where the needs are and we need to be," said Jaylon Morgan, a senior at Hattiesburg High, who served as the council's president last year. "We love to help out the community, and that's what we gain through the Mayor's Youth Council, community and leadership skills." Youth Council members from the Hattiesburg area traveled Thursday to Florence for a conference with other youth council members from across the state. "It was a unique opportunity to get with their peers and talk about leadership, talk about public service, together," Mayor Johnny DuPree said. "When I was president of the Municipal League, that was one of my initiatives, to increase the number of youth councils across the state, and we've gone from about eight or nine across the state to over 50."
DuPree expanded the Youth Council model of his predecessor, former Mayor Ed Morgan, to include not only Hattiesburg public school students, but those from nearby districts as well as those from private schools and the home-schooled.
"We live in an area with so many high schools and so many ways to be educated, that some of these kids never get a chance to meet with each other," DuPree said. "This gives them a chance to interact with young people who live in the same area."
The 2014-15 council includes 21 students.
"We have fundraisers, and we get together to talk with the youth," said Jessica James, a senior at Hattiesburg High who serves as council secretary. "Whenever I heard of this program, it was amazing that they were allowing kids, you know, teens, to be a part of this.
"I think it puts a lot of kids in new situations with people. It's a great program." The program not only promotes community service, but also hones group and individual skills. "Leadership," said Heaven Henderson, a junior at North Forrest who serves as the council's assistant secretary. "Learning how to be more of a leader. That's important."

Requirements for Mayor's Youth Council
Participants must be enrolled in school and in at least ninth grade
Participants must agree to attend regular meetings, contribute to planned events/projects
For details, call Mary Ann Harris at (601) 545-4503 or mharris@hattiesburgms.com