Flint, Michigan is in a state of emergency because their drinking water contains elevated levels of lead, which is twice the EPA's recommended limit. What makes this situation more devastating is the fact that 41% of Flint's residents live below the poverty line.
Our community has experienced several catastrophic situations as recently as the 2013 tornado that plowed through our beloved city. We identify with Flint, which is why we are asking businesses, organizations, communities, and citizens to band together to provide support and supplies to the victims of Flint. Although many companies and individuals across America have come to Flint's aid, IT IS NOT ENOUGH.
To achieve this goal, I have formed a committee, Hattiesburg Stands For Flint, which is chaired by Darryl Harris and co-chaired by my wife, Johniece DuPree. After extensive research, the committee has concluded that the best, sustainable solution is to provide water filters and nutritional snacks for the affected households.
We need you to be a part of the solution! Join us as we provide relief through the purchase of at least 1,000 water filters for the citizens of Flint as the city undergoes water infrastructure repair. Please donate to one of our pledge levels. All donations will be accepted. For more information please refer to the attached pledge form or contact the Committee Chairman, Darryl Harris at (601) 618-0231 or at HattiesburgStandsForFlint@gmail.com.
Sincerely,
Johnny L. DuPree, Ph.D.
Mayor, City of Hattiesburg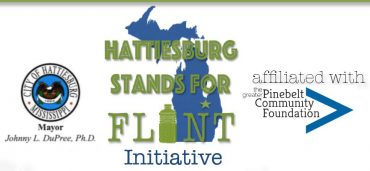 THE MISSION
Help our community raise $56,000 to provide 1,000 water filters for the victims of Flint, Michigan. When we hit our goal, the filters will be purchased from Zero Water and shipped to the United Way of Genesee county, where we will distribute the filters to the victims.
THE EVENT
To give our initiative a kick in the right direction, we will host our
"Give Back, Give a Stack Event"
at Patio 44 on 4/4/16 from 5:30pm till 8pm. This event will be serve as our kick-off event to our month-long journey to hit our goal by
4/29/16.
YOU
If you pledge before
3/25/16
, you can become a partner to host our kick-off event. This will grant you inclusion within the media as we advertise the event while receiving corresponding benefits below.
CAN'T DONATE NOW?
No worries, all monetary donations are accepted! Checks are made payable to The Greater Pine Belt Community Foundation, a 501(c)(3) organization. Please place
"Hattiesburg Stands for Flint"
in the memo line and send your check to The Greater Pinebelt Community Foundation at 1507 Hardy Street, Suite 208, Hattiesburg, MS 39401.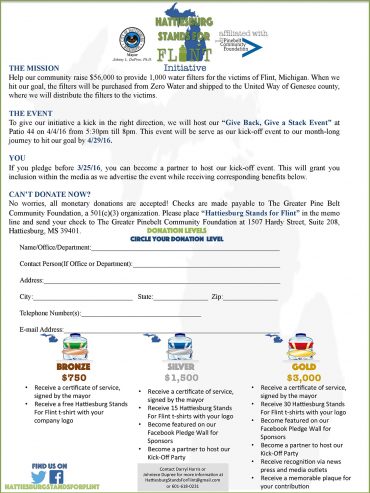 Click Here to Print and Complete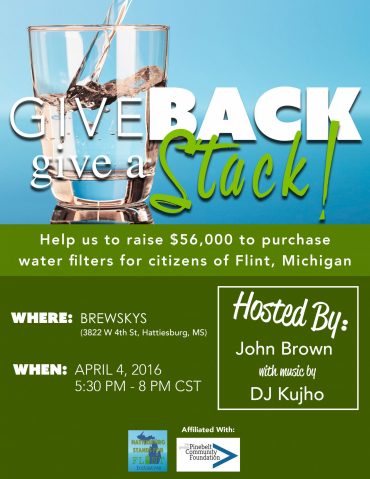 WDAM Live Shot at Hattiesburg Stands For Flint Fundraiser
City of Hattiesburg Kicks Off Hattiesburg Stands For Flint Fundraiser at Brewsky's on Monday, April 4, 2016.