We are excited to help introduce our children to their favorite books through one of the most unconventional and creative ways."
-Mayor DuPree
The community's response to the Take a Look, Find a Book Initiative spearheaded by the Hattiesburg Arts Council, Hattiesburg Alliance for Public Art, and the City of Hattiesburg Mayor's Office has been phenomenal as the number of Little Free Libraries donors have increased from 24 to nearly 40 with no signs of slowing since the February 7, 2015 unveiling of the literacy project. The endeavor has fueled Mayor DuPree's School Readiness by 5 initiative (implemented in 2014) as well as the public library's 1,000 Books program, which encourages parents to read 1,000 books to their children before they begin kindergarten. DuPree believes that literacy is the vehicle to success, a vehicle that has the power to steer people away from economic and health disparities. Rebekah Stark Johnson, executive director of the Hattiesburg Arts Council, is often spotted driving said vehicle. "We are thrilled with the response so far," said Johnson. "It's been a terrific avenue for enhancing the community, promoting art and also the love of reading." Riding shotgun would be Hattiesburg Alliance for Public Art President, Becky Montague.  "Rebekah and I knew right away that we wanted to collaborate on the library sculptures, but we had no idea how much they would resonate with others," said Montague. Hattiesburg Public School District Excel By 5 Specialist Aisha Anderson, who is also a mom, echoed their sentiments. "It's refreshing to see our kids running towards a book rather than a video game, and as people view the Little Free Libraries exhibits, I can not help but notice the display of teamwork and generosity within our community." she said. Johnson hopes that the Little Free Libraries, which could have cost more than $15,000 to build if it were not for the financial support of residents, would inspire field trips to the area. To reserve a tour day or learn how you can assist with the Take a Look, Find a Book initiative, call 601-583-6005, visit www.hattiesburgartscouncil.org, or e-mail hattiesburgartscouncil@gmail.com.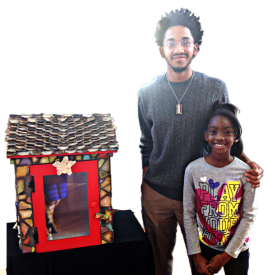 Little Free Libraries
On February 7, 2015, the City of Hattiesburg Mayor's Office, Hattiesburg Alliance for Public Art and Hattiesburg Arts Council introduced to the community one of the most unique and clever tools to promote literacy in the Pine Belt area—Little Free Libraries. The group revealed 24 public sculptures during an exhibit at the Hattiesburg Cultural Center as part of the Take a Look, Find a Book Initiative. The sculptures were created by City of Hattiesburg employees, local artists, architects, contractors, businesses, neighborhood associations, and children. Guests were encouraged to bring a gently, used book to donate. "Mayor DuPree has been an avid supporter of this effort," said Rebekah Stark Johnson, Executive Director of the Hattiesburg Arts Council. "The very first donation we received came from the him. He provided funding for children's books in hopes of encouraging parents to read more frequently to their young children," she said. The City of Hattiesburg Traffic and Construction Division built the first five Little Free Libraries which are situated at city parks and community centers. Mayor DuPree would purchase the first set of books for each location.