In the spring of 2014, Hattiesburg was one of 12 cities selected to compete in the 1st round of a highly-competitive contest to spearhead the National League of Cities' (NLC) efforts to enroll children and families in Medicaid and the Children's Health Insurance program (CHIP).
With a $27,000 grant offer, NLC challenged the Hattiesburg Steering Committee to create a business plan that would ensure the sustainability of The Cities Expanding Health Access for Children and Families Initiative (CEHACF). The Committee was comprised of representatives of the City of Hattiesburg, the University of Southern Mississippi's School of Social Work (USM), Southeast Mississippi Rural Health Initiative and Hattiesburg Excel By 5. Together, the steering committee and community members developed a successful business model and the City of Hattiesburg's E³ (Enroll, Educate, Empower) Health Initiative which inspired NLC to award Hattiesburg $250,000 in July 2014, and a pledge of technical assistance to implement E³ over a two-year period.  Hattiesburg was the smallest of the eight cities selected which included Savannah, Georgia; Jacksonville, Florida; Garden City, Michigan; New Bedford, Massachusetts; Pittsburgh, Pennsylvania; Providence, Rhode Island; and Dallas, Texas.
Led by Project Coordinator Kathryn Rehner, the E³ campaign aspired to reduce the number of the estimated 6,000 uninsured, but eligible children and families in the Lillie Burney, Rowan and Hawkins school zones by 50%.  Since October 2014, E³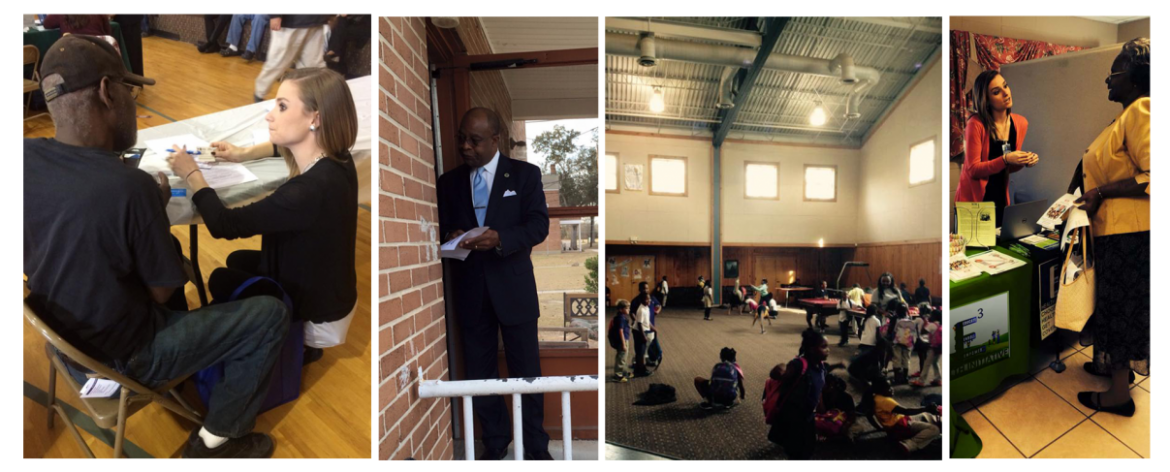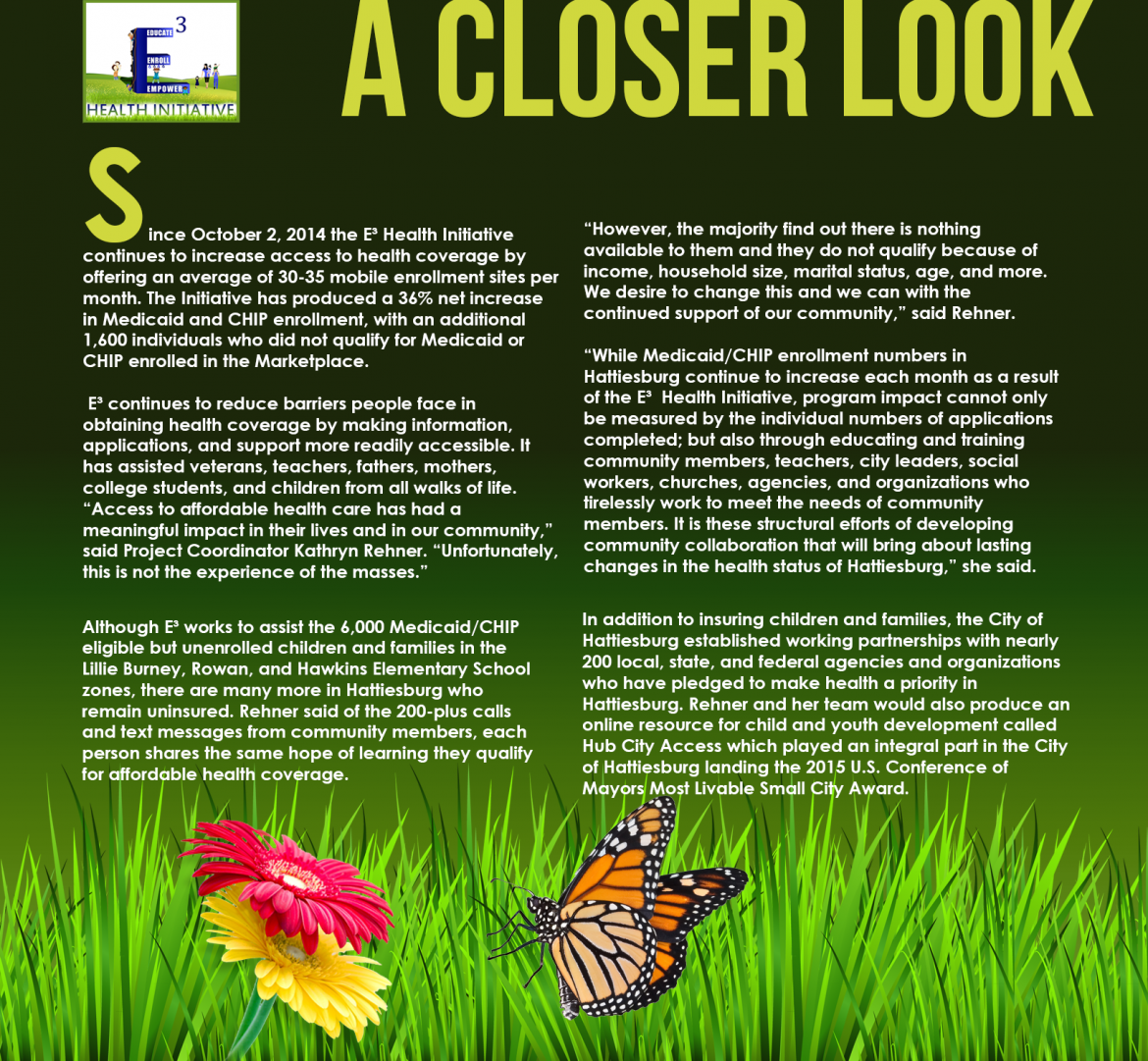 UnitedHealthcare donates 10 laptop computers to the City of Hattiesburg's E³ Health Initiative to increase computer and Internet access in underserved communities. The laptops offer additional enrollment sites for Medicaid/CHIP application assistance through The Hub City Health Lab, which enables residents to access health related information and resources available in the community. UnitedHealthcare has donated nearly 3,000 computers in 24 states since the program began in 2012.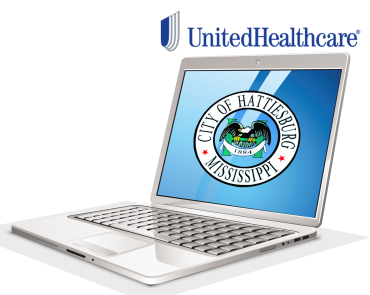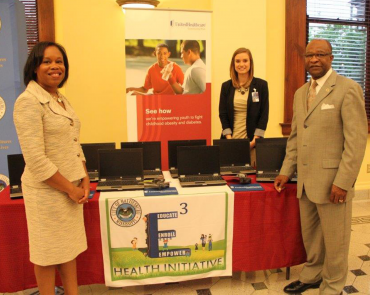 "UnitedHealthcare recognizes the need in Hattiesburg for increased computer and Internet tools to help people gain access to critical health information and resources online," said Jocelyn Chisholm Carter, CEO, UnitedHealthcare Community Plan of Mississippi. (Pictured from left to right in adjacent photo: Jocelyn Chisholm Carter, CEO, UnitedHealthcare Community Plan of Mississippi; Kathryn Rehner, City of Hattiesburg E³ Health Initiative Project Coordinator; Mayor Johnny L. DuPree, City of Hattiesburg)
City of Hattiesburg, School of Social Work Bring Health Insurance to Community
The Educate, Empower, Enroll (E3) Health Initiative, a partnership between the City of Hattiesburg and The University of Southern Mississippi's School of Social Work, helped insure more than 3,000 Hattiesburg community members.
The E3 Health Initiative provided Medicaid and Children's Health Insurance Program (CHIP) enrollment assistance to consumers. Identified coverage barriers include confusing applications and eligibility criteria, lack of information about Medicaid and CHIP, and transportation.
"Health care is a human right," said Southern Miss staff member Kathryn Rehner. "My goal from the beginning of the program has been to advocate for children and families who are without health coverage because of a confusing and complicated system."
The E3 Health Initiative hosted more than 300 enrollment sites since July 2014, reaching more than 35,000 people through community events providing information and education about health insurance and health access.
"We have to continue to address the specific barriers that are limiting access to care in our approach to service delivery if we are serious about making Hattiesburg and Mississippi a healthier place to live," said Rehner.
Rehner noted she helped bring a complicated system directly to eligible children and families. She said each application was hand delivered to the appropriate Regional Medicaid Office to guarantee it was received.
"The process can be so confusing," said a Hattiesburg resident. "If it hadn't been for E3's assistance, I would have missed out on the opportunity of getting care when I needed it the most."
The City of Hattiesburg facilitated and oversaw the implementation of the project. Mayor Johnny DuPree, city council members and other city leaders assisted with campaign visibility through public service announcements, working booths at festivals and fairs in the community, and attending public meetings to promote enrollment and recertification.
"Working together has provided wonderful opportunities for faculty and students to apply their scholarship in tangible ways that make a difference, and it has enabled the city to provide health insurance opportunities to uninsured residents in this community," said Dr. Tim Rehner, director of the School of Social Work. "This partnership worked well and resulted in fantastic outcomes for Hattiesburg residents."
Dr. Laura Richard, assistant professor of social work and principle investigator, said the initiative had far-reaching effects. "Families and children all over the Hattiesburg area have been helped, agencies have been trained in how to assist those needing Medicaid or CHIP, and additional programs have been started and expanded from the model of service that made E3 so successful," said Richard.
Due to the success of the E3 Health Initiative, the Southern Miss School of Social Work was awarded more than $1.2 million in Affordable Care Act funding to replicate the project with the addition of Marketplace enrollment assistance.
"The groundbreaking success of the City of Hattiesburg's E3 Health Initiative continues to transform lives within the Hattiesburg-area and the 24 southernmost counties in Mississippi," said DuPree. "Thanks to the dedication of the community and strong partnership with the Southern Miss School of Social Work, many children and families not only have health coverage through Medicaid or the Children's Health Insurance Plan, they have a better understanding of the application process."
For more information about the School of Social Work in the Southern Miss College of Health, visit www.usm.edu/socialwork.