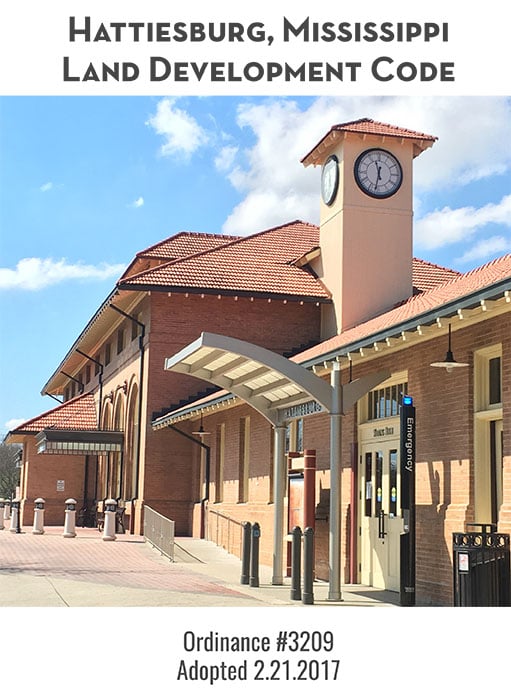 Click here to view full document
Land Development Code
The new Land Development Code (LDC) was adopted by the City Council on February 21, 2017, and will became effective on March 23, 2017. Click the link above for the interactive version of the Land Development Code.
INTENT AND PURPOSE
Promote the health, safety and welfare of the citizens of the City of Hattiesburg, Mississippi;
Provide long term benefits by establishing procedures and standards to be followed in the development and redevelopment and redevelopment of land;
Promote economic development and diversification within the City;
Protect and enhance Hattiesburg's natural environment;
Maintain the aesthetics and historic character of the City;
Implement the City of Hattiesburg Comprehensive Plan 2008 – 2028, as amended;
Insure the coordination of land uses, utilities and transportation facilities;
Insure quality design and construction of residential, business, industrial and agricultural developments;
Assist in the coordination and efficiency of governmental actions within the City; and
Enable the City of Hattiesburg to uniformly and consistently evaluate and approve, as appropriate, new development proposals, land subdivision, changes to existing uses, and redevelopment proposal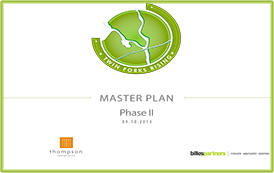 Twin Forks Rising - Master Plan
In early 2013, the City of Hattiesburg made an important decision; it authorized the development of a future land use plan for Twin Forks Rising (TFR). This plan will provide the foundation for community-founded and meaningful improvements in Ward 2.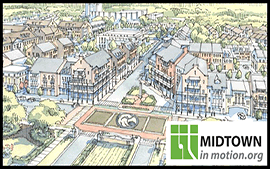 MIDTOWN in Motion - Master Plan
The goal of the Midtown Hattiesburg Master Plan is to create a walkable, workable, mixed use community that connects people to living, shopping, dining, entertaining, educational, medical, cultural, and recreational venues. The project area is located just south of the USM campus and west of US 49.
Department of Urban Development Staff
Contact Information
Mailing Address: Post Office Box 1898 Hattiesburg, MS 39403 Physical Address: 200 Forrest Street

Planning Division
601-545-4599