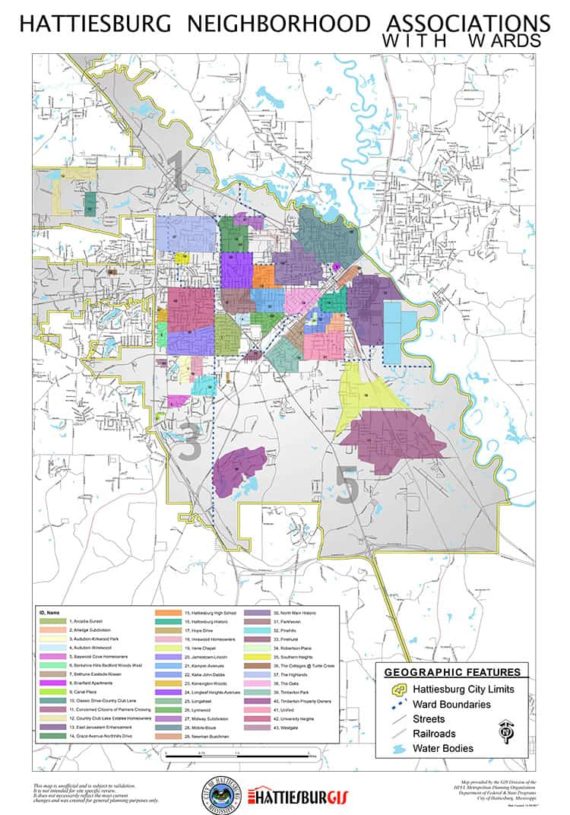 There are currently 43 neighborhood associations in the City of Hattiesburg. This page contains links to an overall map and individual maps for each Neighborhood Association.
Neighborhood Development Coordinator
The Neighborhood Development Coordinator plays a vital role in providing important and timely information regarding city meetings, public hearings, programs and public awareness messages to the neighborhood "network". The coordinator also assists, as a liaison, in providing information for organizing new associations and neighborhood watch groups. The neighborhood coordinator also provides the associations with information about new developments, new ordinances and upcoming issues and events that will affect their neighborhood, such as zoning changes and road improvements. There are currently 43 neighborhood associations city-wide.
The Neighborhood Development Coordinator also attends numerous meetings with non-profit organizations geared to providing services for disadvantaged citizens.
Partnerships
Pine Belt Coalition on Homelessness
The Pine Belt Coalition on Homelessness is an agent for change committed to addressing the short and long term complex issues that contribute to homelessness through the development and implementation of the necessary infrastructure.
Mayor Johnny L. DuPree formed the Mayor's Financial Education Initiative in 2001 to provide free tax preparation and educate citizens on the Earned Income Tax Credits (EITC) that were not being accessed. This initiative has evolved to include all levels of financial education – budget planning, awareness, scamming, identity theft and financial empowerment.
Oak Arbor is a place for transition between primary addiction treatment and day-to-day life after treatment. Founded in 2001 as an extension of our sister program at Clearview Recovery Center, Oak Arbor helps individuals with the completion phase of primary addiction treatment. Our goal is to get our clients back into the community and living independently.
The Statewide Independent Living Council (SILC) in collaboration with LIFE and MDRS is charged with developing and maintaining the State Plan for Independent Living (SPIL). The SPIL outlines their plans for the provision of independent living services to individuals with disabilities in Mississippi.
National Association of Town Watch is the nation's premiere non-profit crime prevention organization dedicated to the development and promotion of crime prevention in communities across the nation.
Pearl River Valley Opportunity, Inc. Our mission is to impact communities through partnerships and resources to create more social and economic self-sufficient families and prepare children for the next level of placement.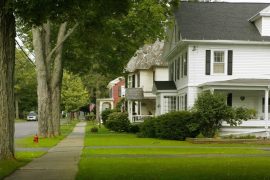 The Council of Neighborhoods
Mayor Johnny DuPree established the "Mayor's Council of Neighborhoods" during his first term of office in 2000. The council was set up to provide a forum for neighborhood leaders to express ideas, issues or concerns about city services or projects. The council met quarterly to allow the associations an opportunity to sit at the table and listen to presentations geared to the interests and concerns of the neighborhoods.
In December 2007, Mayor DuPree restructured the organization of the Council of Neighborhoods; it became a separate entity with elected board members and officers. The group holds regularly scheduled monthly meetings and invites speakers to address current neighborhood issues. Also, many neighborhood association has a web site to share information with the residents.
2015 Council of Neighborhoods Meeting Schedule
[ecwd id="10875"]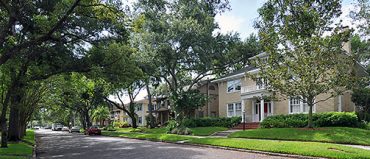 Neighborhood Associations
Neighborhood Associations
The roots of the city's neighborhood planning program—Neighborhoods Building Hattiesburg's Future can be traced back to the 1999-2001. The program set out to establish an information exchange between the city's governing body and neighborhood residents. The process consisted of three phases: 1) Initiation, 2) Organizing/Outreach, and 3) Visioning/Planning.
Department of Urban Development Staff
Contact Information
Mailing Address: Post Office Box 1898 Hattiesburg, MS 39403 Physical Address: 200 Forrest Street
Maxine Coleman, Neighborhood Development Coordinator
Phone: 601-554-1005 Email: mcoleman@hattiesburgms.com