The Process
The purpose of The City of Hattiesburg's Environmental Court is to assist Code Enforcement, Animal Control and Fire Department in clearing up any documented violations. The Court's sole purpose is to protect and maintain the health, safety and well-being of the citizens of Hattiesburg. Environmental Court exists to ensure that residents are adhering to all Animal Control, Fire Code and Code Enforcement Ordinances. We work tirelessly to assist all residents in clearing up any and all violations. On the occasion that residents refuse to clear up the violation they are summoned to stand before a Municipal Judge, where he/she hears arguments from the City of Hattiesburg, as well as the resident. A judgment is rendered by the Judge. Residents can either be found not guilty, guilty, and even fines may be assessed. Our court is an advocate to those that wish to maintain, their pets and property to a standard that we can all be happy to call the City of Hattiesburg, home. The Court believes that only "Together, can we make Hattiesburg better".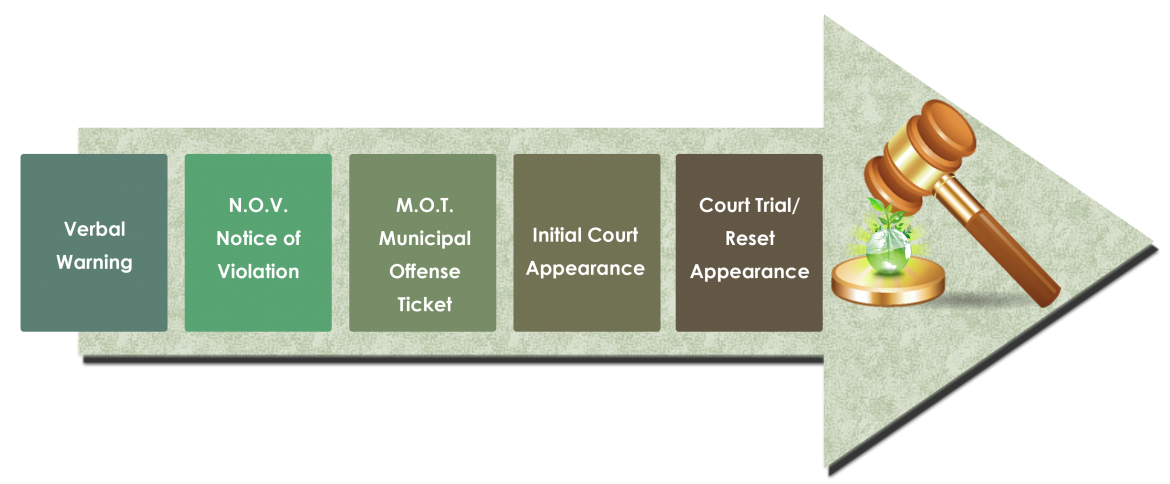 The party reponsible for the property may be given a verbal warning prior to the written notice, depending on the severity of the violation.

This notice wil be hand-delivered and/or mailed to the property owner. Based upon the violation, a re-inspection will be given to allow the owner reasonable time to correct the violation.

If the violation(s) have not been corrected within a reasonable time or withing the time allotted, the citation will be issued and a court date will be assigned.

The property owner or responsible party will appear before the presiding city judge on the assigned court date regarding the code violations that have not been corrected.