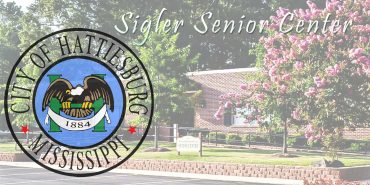 The City of Hattiesburg Senior Center
W.U Bill Sigler Building 315 Conti St. Hattiesburg, MS 39401
The City of Hattiesburg's Senior Center is a new addition to the wonderful services we offer here in the Hub City! Our building, the W. U. Bill Sigler Building, has been updated and remodeled to accommodate all types of meetings, classes and special events for seniors in our area. Our main goal is to provide meaningful programs and classes that will improve the quality of life for the adult population in and around Hattiesburg.
We have on-going and continuous classes that are offered:
Chair Aerobics: Every Tuesday @ 10 am
This is a free class that focuses on strengthening, toning and stretching our muscles. The last 1/2 of the class is spent working on our "core" muscles and balancing exercises
Computer Class for Seniors: 2nd Thursday of each month @ 10 am
This is a free class that is geared toward the older adult who would like to learn the basics of computer. Examples of classes include: How do I turn this thing on?, Email basics, Word documents, Searching the internet and Is my computer sick?
Jewelry Class: 3rd Thursday of each month @ 10 am
Want to learn how to make your very own jewelry? Here is your chance!! All of the basic supplies are provided for you.
All of the classes, programs and special events offered at the Senior Center are in our monthly newsletter. If you would like to receive one, please call our office and we can put you on our mailing list!!